There is a reason North Americans put off their summer vacations until August. If you're one of them, there's a Belize island waiting for you.
One of the best ways to enjoy vacationing in Belize in August is to eschew mainland resorts and opt instead for a sultry island retreat. By booking accommodations at  Coco Plum Island Resort, travelers get the best of both worlds: a tranquil retreat and close proximity to the mainland where tours and experiences liven up days and nights, especially if they include the following five.
1. The International Costa Maya Festival
Ask your Coco Plum Island Resort host to sort out transport to get you to this annual festival of fun. The Costa Maya Festival runs for three days and is held every August in San Pedro on Ambergris Caye. The festival is filled with excitement from morning to night. Dance, sing, play games, watch street parades and don't miss the traditional beauty pageant. By the time you return to the island, expect to be happily exhausted!
2. Tres Pescados Fishing Tournament
The name of this August fishing tournament may translate as "Three Fish" but the event name actually refers to the three species of fish found in Belize waters: bonefish, tarpon and permit fish. Staged since 2009, Belize's only "catch and release" fly-fishing tournament is more than just fun; it's also a fund raiser for local projects that promote marine ecology issues. Want to see your name on the winner's list in August 2020? Register at https://www.belizefly.com/tres-pescados-slam and book your accommodation at Coco Plum Island Resort.
3. Roam the Placencia peninsula
This 16-mile strip of pristine beach offers visitors a delightful look at southern Belize where bicycles and golf carts are the transport of choice. As the gateway to the UNESCO World Heritage Site's Western Hemisphere jewel, the Belize Barrier Reef, Placencia is your jumping-off point for all sorts of water sports that include scuba diving, fishing, sailing, and snorkeling. You couldn't plan a more inspiring way to spend your August vacation than by roaming Placencia.
4. Channel your inner islander
Everything you could possibly want is at your fingertips when you spend your August holiday on Coco Plum Island. The resort's pool is rarely crowded because the island only accommodates a small number of guests at any given time. The resort's restaurant, with its gorgeous overwater environment, serves dishes reflecting Belize cultural mix, borrowing from Maya, Mestizo and Garifuna traditions. Treat yourself to as many services you like at the Serenity Spa and enjoy Yoga Flow Classes. You won't be the first guest to insist on spending your entire vacation on the island!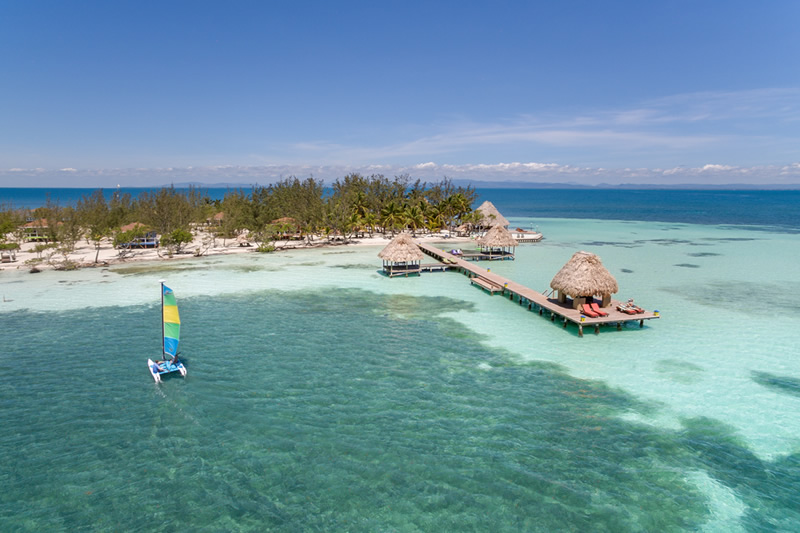 5. Book a specialty tour
No queues or waitlists for guests eager to take advantage of Coco Plum specialty tours during the month of August. Choose from a sunset cruise, Belize cuisine cooking class, tour nearby Hopkins Village, book an a la carte diving or fishing experience or a Glover's Reef snorkel adventure. These tours are conducted under the watchful eye of skilled and experienced guides, so guests enjoy safe, exhilarating experiences.
Belize in August? Just say yes to booking an island experience and the glow you return home with is very likely to last well into the fall! Act now to take advantage of low season specials. Book your August 2020 travel dates and get $300 off the package rate. And don't forget August at Coco Plum, Belize means LOBSTER FEST! Each year during select dates in the months of July and August, guests are invited to join in the celebration of the opening of the lobster season in Belize with weekly lobster themed events and delicacies offered at the resort.
1-800-763-7360