The best parts of vacationing with friends? The memories you make, of course.
In case you haven't noticed, the Internet is filled with so many "how to vacation with friends" articles, you could spend the rest of your life reading them all. Topics range from "how to get along" on group trips to recommendations about getting on the same page about money, interests and vacation styles long before your group departs.
What's rarely mentioned is the "destination factor." Picking the right place can mean the difference between a stellar group trip and one that's mediocre. According to groups visiting Coco Plum Island Resort, this private island can't be surpassed; it's the ideal place for a group getaway because it's big enough to spread out yet small enough to make sure each person's interests are accommodated.
Neither Belize nor Coco Plum Island Resort make promises they can't deliver! Your vacation experience will be sublime. Year-round weather is idyllic. The plane ride to Belize is short. Everyone speaks English and takes U.S. dollars, so your group will feel right at home. Once you reach the island by boat, every person you meet will be dedicated to making sure your group vacation is nothing short of perfection.
Guys? Girls? Some of both?
Coco Plum Island Resort was designed to treat small and large groups to island living at its most gracious. Guy trips often include deep-sea fishing expeditions, diving and snorkeling the Belize Barrier Reef and tours of vacated Maya cities that can entail trekking through rainforests or jungles to reach these rarified sites.
Typical girlfriend activities may include snorkeling, diving, massages and yoga sessions at the spa, wildlife sanctuary visits or just hanging out poolside or on the beach sipping cocktails.
Couples eager to experience the ultimate in togetherness must try the couples massage at the spa and of course, every tour is designed for both men and women. No matter how you decide to structure each person's day on or off the island, reuniting the group for shared dinners each evening can be the most fun of all!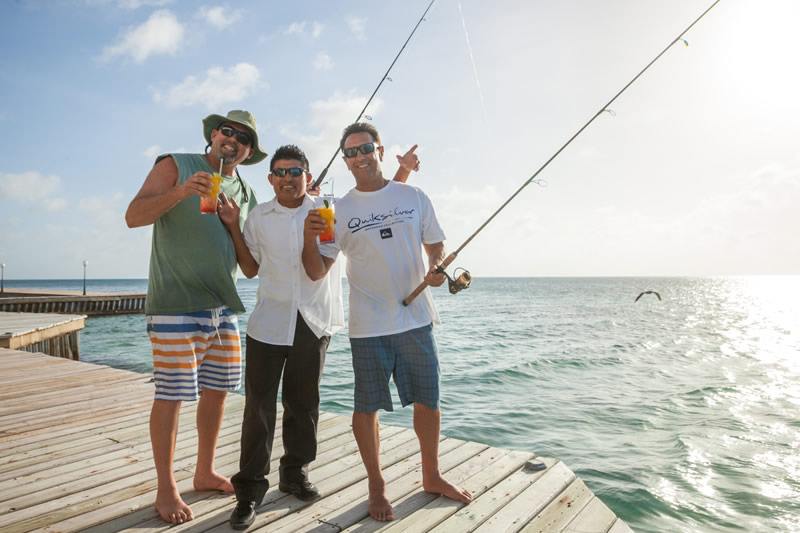 Advance planning is the key to success
For a tiny island, you won't believe the number of perks you enjoy during your group vacation. Arrange to stay in luxe digs located near each other, give everyone their own space or rent the entire island—just as long as you book far enough in advance because renting the island is a very popular option.
Staff is prepared to help you sort out experiences unique to each person's interests and desires. Visit the Coco Plum Special Events page to locate real time information that gives your group the scoop on festivals, activities and seasonal specials.
What can you do right now?
Get the gang together to discuss ways in which you can turn your next holiday into the private island fantasy everyone in your group talks about long after you return. If you need inspiration, the resort's photo gallery shows everyone in your party what they can expect from time on the island.
We would love to see you return home with an equally thrilling collection of photos that capture moments never to be forgotten. Inspired? Motivated? That's a great start. Time to pick a date, clear everyone's calendars and get the ball rolling by booking your group vacation now! Ask about our group discount!
1-800-763-7360