According to Bride's magazine, not every couple taking a honeymoon intends to sequester in their digs throughout their stay. Surprised? Don't be, says marriage therapist Laura Brotherson. "Many couples naturally assume that their honeymoon will be something akin to a chick flick with all its romance and passion. And while it will certainly be wonderful, it will also be filled with surprises," she adds.
Of course, where you spend your honeymoon is especially important, and for newlyweds choosing Belize as their destination, a private island designed for romance and intimacy is guaranteed to deliver on memories and joy. But not just any private island will do, say honeymooners whose all inclusive stays at Coco Plum Island Resort were so blissful, even short stays were magical experiences.
How to make the most of your short getaway
Is it possible to make your honeymoon feel never-ending even if it's limited to just 4 days? Of course. With the right itinerary, your Belize honeymoon can feel like it lasts longer and you don't have to tell a soul that you left your accommodations long enough to explore these lush environs.
Coco Plum's Honeymoon Package has gained a reputation for being unique, affordable and private because benefits every couple enjoys are outstanding. From arrival to departure, every detail of the sojourn is taken care of, including gourmet meals, oceanfront accommodations, unlimited local beverages and just enough outings to give couples a true taste of Belize's wonders.
Before you scan our suggested itinerary, immerse yourself in the list of perks couples enjoy during their visits to Honeymoon Heaven and you'll realize that the value newlyweds receive in return for one price that doesn't skimp on service and extras is amazing.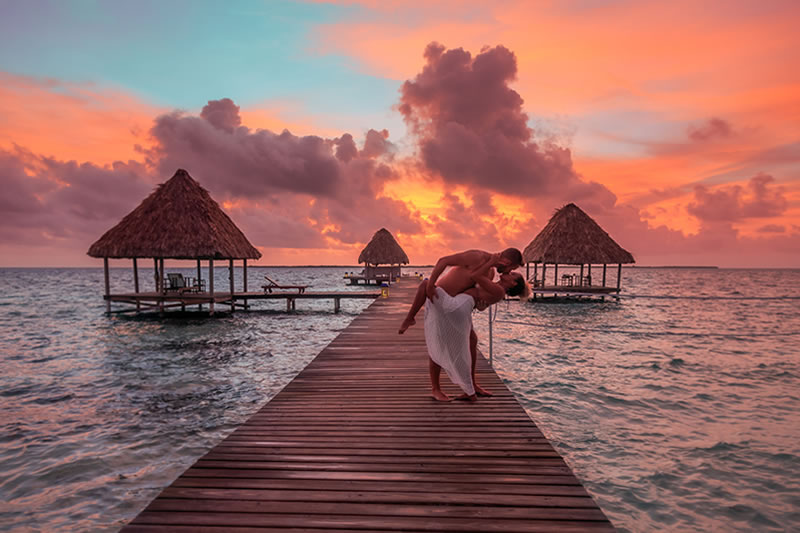 4 days of love and fun

Day 1: Don gear and snorkel the undersea kingdom along Belize's Barrier Reef where the colors, sizes and variety of indigenous fish are a feast for the eyes. A full day as Mother Nature's guest deserves a perfect ending: Dinner served al fresco an the overwater dock. Dessert? That's your call.
Day 2: Explore the magnificent Maya Ruins of Xunantunich and then return to the island for cocktails served at the edge of Coco Plum's cooling swimming pool. Couples say that service, food and privacy make every meal served at the resort's eatery a special occasion.
Day 3: Show your new spouse your fearless side by zip lining above the Belize rainforest. Too much for your nerves? Float down a tranquil river perched atop giant tubes. They're big enough to keep you both safe yet close enough so you can keep holding hands for the entire downriver journey.
Day 4: Sleep late and spend your last day on the island onboard a complimentary Hobie Cat Wave, kayaks or stand up paddle boards. Circle the island's periphery for as long as you like – or at least until it's time for your Serenity Spa appointment where the signature couple's massage sets a new standard for pleasure.
Will you be ready to go home? Of course not. Which is why you'll both promise to return as soon as you get settled into your new life together and find yourselves in need of another exceptional romantic break that can only be found at this Belize paradise.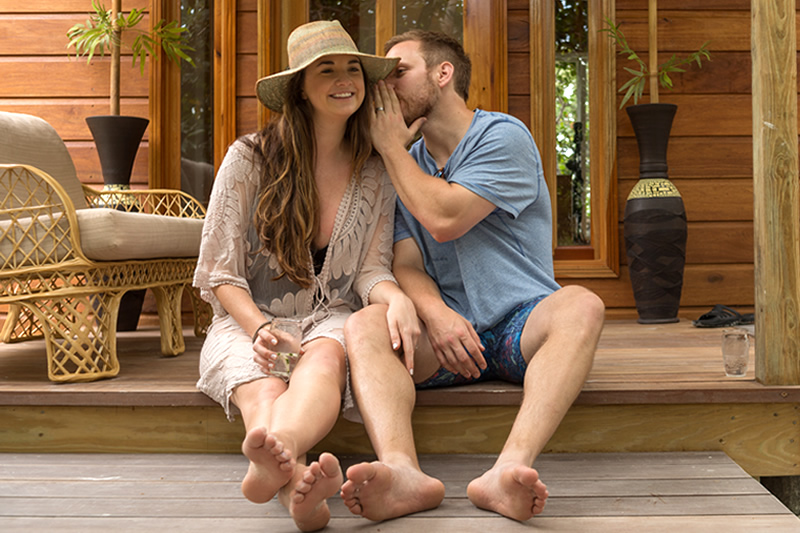 1-800-763-7360