In an ordinary year, couples might take for granted the fact that their destination wedding, followed by a honeymoon, required little more effort than finding an idyllic place, then making plane and hotel reservations. But this has been no ordinary year — savvy couples deciding to wait until 2021 to marry will want those nuptials to be extraordinary.
For example, how about a private destination wedding on a private Belize island in the Caribbean where resort hosts take care of every detail associated with your ceremony and reception? Imagine yourselves standing on a beach amid floral décor as you take your vows delivered by your choice of clergy, all of which is arranged by island staff.
Can you imagine the champagne chilling and your wedding cake being iced by a local cake maker? Absolute bliss! The kind of bliss you are guaranteed if you choose Coco Plum Island Resort in Belize for your affair. This unique Belize wedding venue specializes in destination weddings and because the island, awash in tropical splendor and surrounded by Caribbean waters, is so small and intimate, your private Belize island celebration is likely to make your circle of friends envious!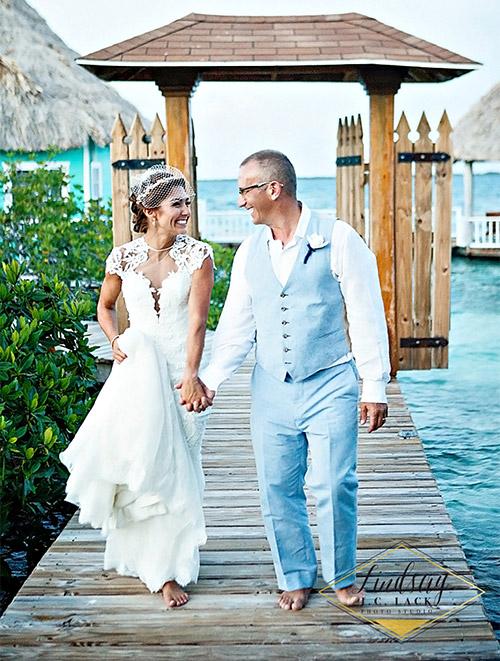 Tailor your wedding to meet your personal desires. Bring witnesses. Why not include family members? You can have the entire island to yourselves if you like, which will make the occasion especially meaningful and memorable.
How hard is it to put together a destination wedding on Coco Plum Island? Well — you can make most of your arrangements by phone, communicating with the island's Reservation Team who act as your wedding planner. It gets easier if you take advantage of popular Belize all inclusive packages, so arrangements, including the legal tasks associated with marrying in Belize, will be set into motion, even before you arrive.
Staff at Coco Plum are experts when it comes to making couples happy, which is why the island was named Best Property for Weddings, Parties, and Special Occasions by leading travel authority Conde Nast Johansens. Browse the Belize all inclusive packages page on the Coco Plum website to see what awaits. No worries about running into crowds. This adults-only haven is so small, there may only be room enough for your entourage.
Since Belize re-opened to tourists on October 1, 2020, airlines have resumed their routes. Originating in Houston, Dallas, or Miami? The flight won't last long enough to read your favorite Conde Nast bridal publication. Once you and your party arrive on the island, you will find yourself awash in health and hygiene protocols put into place for guest safety, which is why the island was granted prestigious Gold Standard status conferred by the Belize Tourism Board for going above and beyond universal Covid measures.
Having waited for the world to begin to return to post-pandemic normal, choosing Coco Plum as your 2021 Belize wedding venue wedding stands as a testament to your love and your patience, thus everything about your private Belize island nuptials deserves to be unique. No ordinary venue will do, given your wait. The Coco Plum calendar is just beginning to fill with destination wedding dates. Make sure yours is included!
1-800-763-7360