Many travelers interested in the Caribbean ask the question, where are the best Belize all inclusive vacations? There is only one answer and it's Coco Plum Island Resort.
Belize is such a small nation, wisdom would tell you that finding the best place to go for Belize vacations would be an effortless process. You read some travel guides. Troll the Internet. Sit through endless photos shared by friends who insist, "There's no other place on earth like the place we frequent in Belize."
But suppose their taste isn't your taste? Suppose the place of your dreams in Belize existed, but for one reason or another, you had never found out about it? We can help. Where to go in Belize? How about a private island that's so lush, relaxing and unique, you'll thank us endlessly for giving you the skinny on Coco Plum Island Resort off the coast of the Belize mainland.
An ordinary Belize island resort?
Nothing could be further from the truth. Coco Plum is an adults-only haven designed for a small group of guests (no more than 42), so whether you are eager to sojourn alone, as a couple or with a group, you won't hear the word "crowd" spoken unless it's to tell travel companions, "So this is how it feels to vacation minus big crowds!"
For guests weary of big resorts, Coco Plum is one exceptional vacation spot. Beach fronts are dotted with lounge chairs, beach beds and cozy hammocks, intimacy is assured thanks to the way each of 18 stand-alone cabanas are situated and you're always steps from the seashore on this small slice of an island. Your balcony creates a personal realm of privacy from which you can watch seabirds soar overhead as you feel warm sun and cooling breezes on your skin.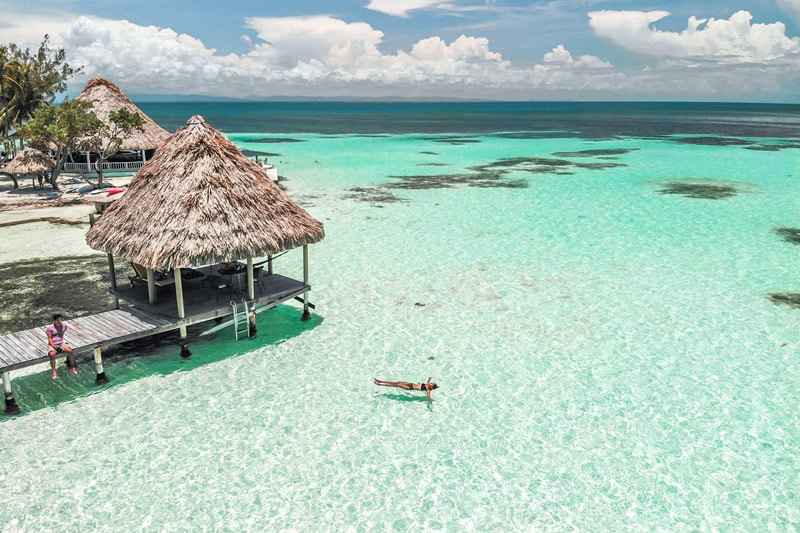 Belize Island packages that won't cost a fortune
In addition to the rumor that perpetually floats around the tourism industry that private island vacations cost a fortune and are only financially viable for celebrities, island stays tend to be thought of as "exceptional opportunities" not available to everyone.
What a silly thought! Coco Plum, Belize caters to people of all walks of life, as evidenced by the generous all inclusive packages available to guests eager to get the most for their travel dollar. These time- and money-saving deals not only include elegant accommodations, but gourmet meals, round trip boat transfers on your arrival and departure, and incidentals. Several packages also include jungle and marine tours.
Skeptical? Don't be! You enjoy privacy, tranquility, access to so many of Belize's natural wonders—the Great Barrier Reef, cayes and atolls, fishing, scuba diving—and what we consider to be the most delightful natural wonder of all: fabulous massages during your stay on the island.
For more information about visiting Coco Plum Island Resort, you're invited to browse our website to see what awaits. Don't be surprised if you turn into a Coco Plum cheerleader once you visit. It happens. And don't think that your friends won't be forever grateful to you for sharing this news!
1-800-763-7360