Birthdays should be fun, but there's a point in the lives of most adults where that magic you felt opening presents as a kid or hosting your friends as a young adult gives way to a feeling of been there, done that. It doesn't have to be that way. A change of scenery can help you capture the magic of an early birthday or anniversary in a way few other things can. There's no better place for reviving your sense of wonder than Belize.
Belize: Best Place To Celebrate Your Anniversary or Birthday
Situated along the Caribbean Sea, Belize is a place of amazing eco-diversity. There are jungles teeming with exotic life and hidden Maya cities, long stretches of sandy shore that give way to crystal blue seas and the world's second largest barrier reef, and a people that are as outgoing and friendly as they are laid back. Birthdays and anniversaries are at their best a celebration of life, and there's no place on Earth more lively than Belize.
If you're looking to plan your special occasion in Belize, there's no better place to do it than Coco Plum Island Resort. Whether you want to spend your birthday zip lining through stretches of overrun jungle, tubing down stunning underwater caves, or swimming up close and personal with nurse sharks, the friendly staff at Coco Plum Island can connect you with the right people. Or maybe you want to watch the sun set over the Caribbean while you and your spouse sprawl out on the beach or take a romantic horseback ride through the countryside. Coco Plum Island Resort is positioned with easy access to all the best adventures Belize has to offer.
Coco Plum Island Resort – The Perfect Birthday Getaway In Belize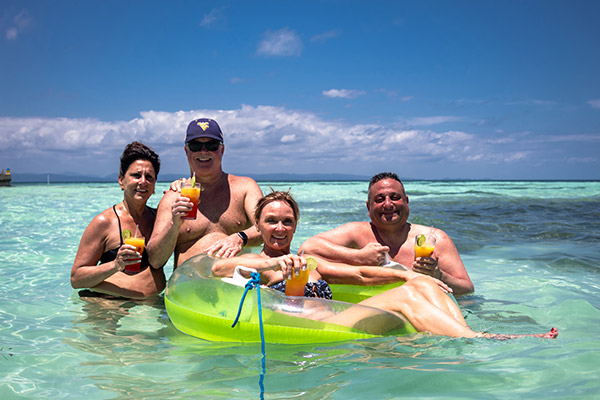 But you don't have to do anything at all if you don't want to. Coco Plum Island is an all inclusive Belize resort that is ready to wait on you hand and foot. The 18 stand-alone cabanas each offer a stunning view of the sea, and they're a comfortable choice to stay whether you're looking to host a small party of your closest friends or get some alone time with that special someone.
When you stay at Coco Plum, you'll never have to leave the resort. You'll have access to the helpful staff, a private stretch of beach, and fine cuisine. But maybe you should venture out by experiencing an inland tour or two. Several packages include adventure tours. There's a lot worth exploring, and any anniversary and birthday is a great reminder of how much life you have left to live. After all, there's no time like the present.
Start Planning Your Birthday or Anniversary Getaway
Contact the Reservation Team today for a personalized rate quote.