Could you use a big infusion of happiness throughout 2023 when it comes to holiday planning?
Did you know that the happiest aspects of vacations have nothing to do with taking that trip? This information appeared in a study published in the "Applied Research in Quality of Life" journal. Scientists proved that trip planning delivers a huge boost of happiness to the brain because it's human instinct to look forward to good times ahead.
Further, every time the brain focuses on trip details, the mind goes into "escape" mode, and spirits are elevated. And when travelers share details about their upcoming trips, they experience a happiness rush. Planned happiness? Why not? Getting your head into this idea could change the way you shape your holiday calendar in the year ahead!
A year of living happily
Before you launch your calendar project, identify a destination with so much to offer, you could visit every month and never get bored. This accurately describes Belize, a small nation packed with experiences and surprises. The former British Honduras has been called Central America's most mesmerizing, adventurous destination.
Want to make your holiday visits to Belize unforgettable? Stay on a small, private island. Coco Plum Island Resort is an awesome home-away-from-home, so whether you come just once or every month of the year, you'll feel happy and welcome thanks to tropical digs, yummy food, and pleasure-inducing temperatures.
Which 2023 holidays do you prefer?
Setting up a year-long travel calendar is the ultimate in preparation because you have lots of time to find reduced airfares and can give your boss advance notice, too. Because visitors to Belize find myriad deals and discounts throughout the year, planning helps stretch budgets as well.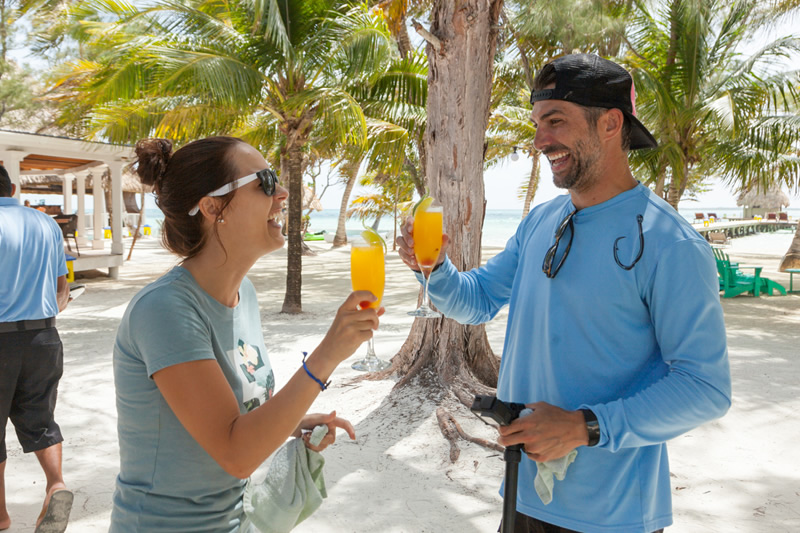 Need ideas? How about these happiness-provoking holidays?
January: New Year's on an island? Yes, please. Book early so you're not turned away!

February: Love is in the air and where better to express it than on Valentine's Day at Coco Plum Island Resort?

March: Heroes and Benefactors Day is on March 9, 2023. Bring your hero to the island for some R&R.

April: Easter falls on April 9, 2023, and it's the perfect time to grab an early spring vacation.

May: May 25th is Commonwealth Day in Belize, a happy tradition that you can celebrate, too.

June: Planning a June wedding? An island affair at Coco Plum, Belize makes your special day unforgettable.

July and August: Two months? You bet. Lobsterfest straddles these months so you've plenty of time to eat up.

September: St. George's Caye Day (the 10th) and Independence Day (the 21st) are Belize's most exciting holidays.

October: Choose your fav: Belize's Pan American Day on the 12th or come down for Halloween on the 31st.

November: Is there a better way to give thanks than by spending Thanksgiving on a tropical island?

December: Trim your tree and shop before heading south to enjoy the best of both worlds during the holidays.
Is there an island in your future? The answer is yes if you have the foresight to put into place a calendar of 2023 holidays and make advance plans. Who says you can't put into place a "happiness plan" by scheduling holidays in advance? Not you!
1-800-763-7360