The fact that guests have an unBELIZEable vacation with us and decide to return year after year fills us with great pride. We are honored to share this guest blog post by Kris Rocha who is already booked for a third trip in March 2018. Happy reading!
7) "Welcome to Coco Plum Island"
Say that in your best Mr. Roarke voice and subconsciously replace "Coco Plum" with "Fantasy," because that's what it feels like from the time you first step off the boat until the time you leave. As you arrive, a smiling staff member waits to greet you with cool towelettes, the famous mosquito bite adult drink and your name already committed to memory. From there, your luggage is whisked away to your cabana and you are told "You're on vacation now! We'll take care of everything for you from here on out." If you do offer to help, it is graciously declined. If you're like me, you might tear up a bit as your mind tries to reconcile what your eyes are seeing and you may wonder "is this real?" Good news – IT IS!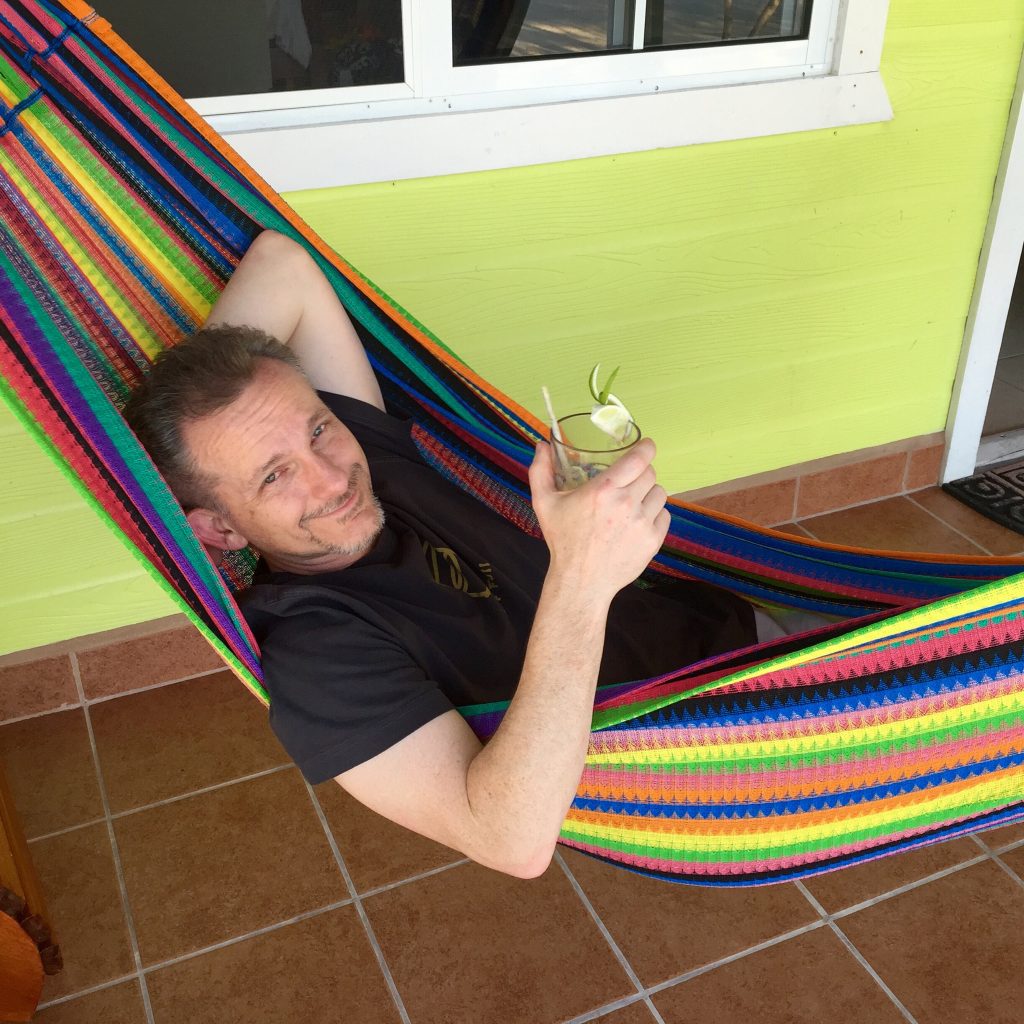 6) Your New Home Sweet Home!
From the bright, Caribbean colored oceanfront cabanas, to the appealing furnishings, to the luxurious bedding (seriously – I asked the staff what brand it was and bought some for my house!), your new vacation home will feel like home. Comfortable, relaxing, well-appointed, thoughtfully designed and just, ahhhh …. Not to mention the awe-inspiring ocean views from your own private veranda.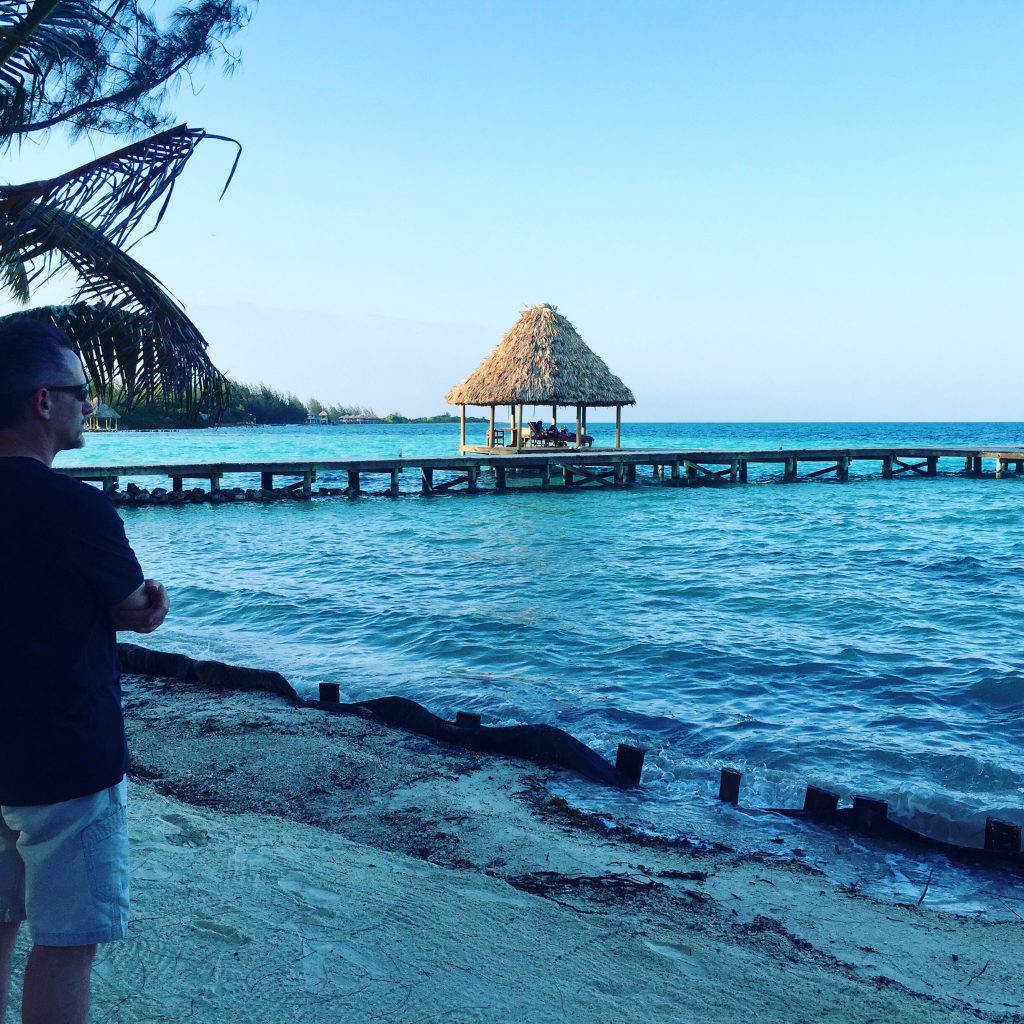 5) R&R … The Dream is Real
Having never traveled to a tropical locale prior to Coco Plum, my hard-working husband's dream vacation was/is what he calls, "The Corona Moment Commercial." The Corona moment is defined by a deserted white sand beach, two chairs, an adult beverage, lapping waves and unreal aqua water (we'll get to that in a moment). This is precisely what Coco Plum epitomizes! There are no TVs on the island, WIFI is intermittent and there are only 18 cabanas on the 16-acre, adult-only oasis. Say hello to your "Corona Moment." You deserve it!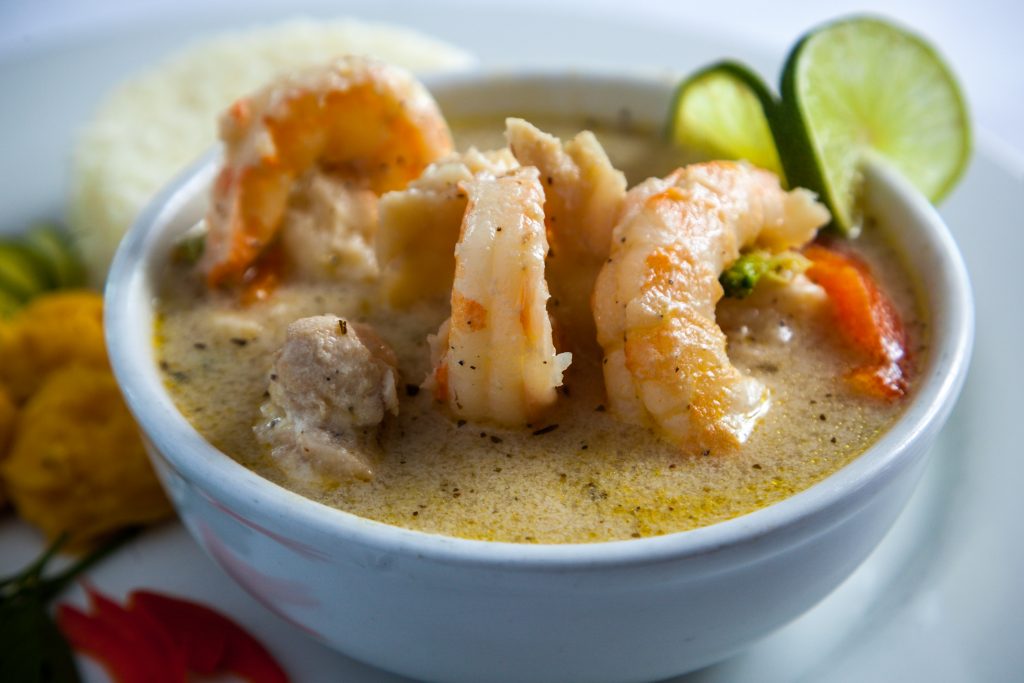 4) The Dining Experience Will Ruin Your Favorite Restaurant Forever
Most of the food is freshly caught and locally sourced – much of it is actually grown right on the owner's farm! The menu consists of a superb mix of Belizean and American foods. The home cooked delights are delicious, varied, bountiful (just ask for more) and completely satisfying, not to mention aesthetically pleasing. A recent text message from new friends of ours made on the island says it best – "We stopped at our favorite Mexican restaurant on the way home, and man has that place gone downhill since we left (5 days ago). They didn't know our names, they didn't know what our favorite drinks were, and we even had to order from a menu. To top it all off, they actually made us pay for the meal! Scratch that place off the list …" – Steve. S.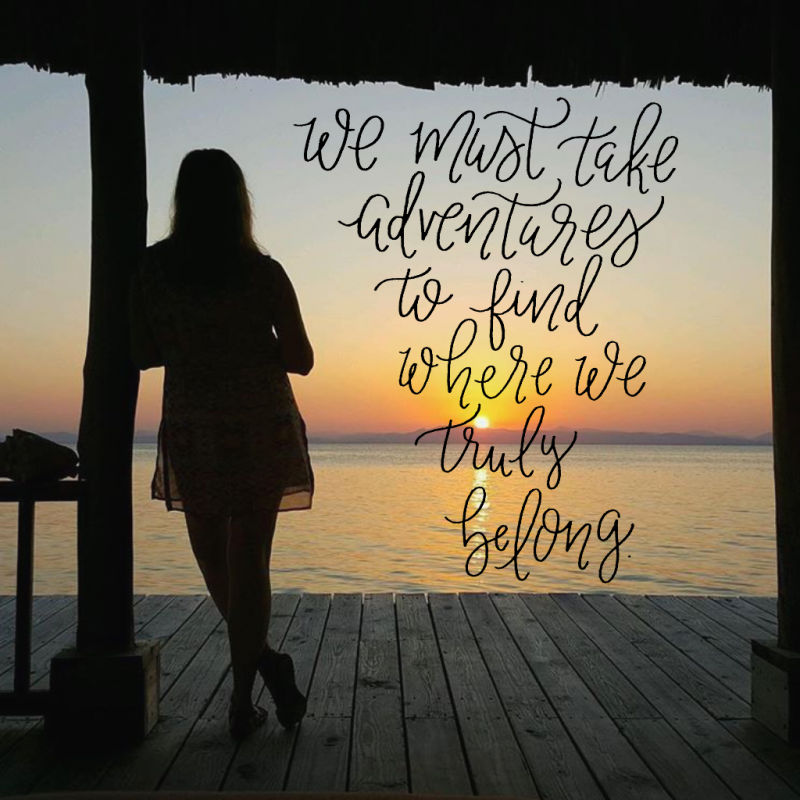 3) Would You Like to Watch the Sunset? Or the Sunrise? Or Both? 
We looooooove sunsets, but in our neighborhood, we're sun-blocked by buildings and trees. So, we were delighted to find that on Coco Plum Island, you can watch both the sunrise AND the sunset! Oh, for joy! Sometimes the little things aren't so little.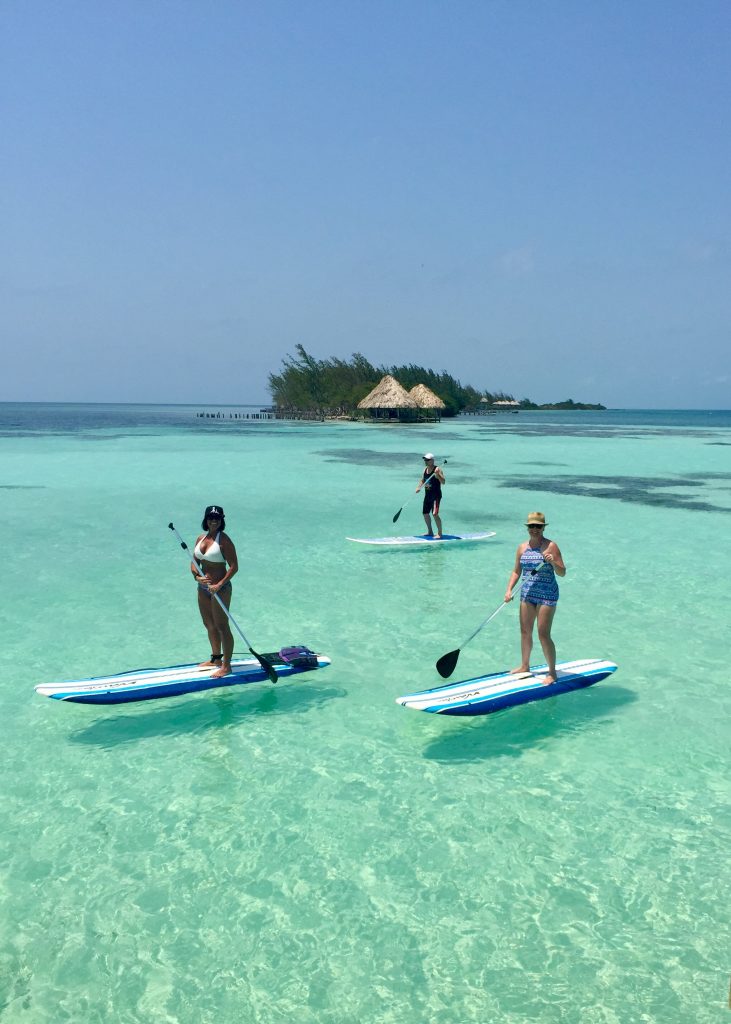 2) That Aqua Water
The pictures don't do it justice. In fact, more than half way into our first visit to Coco Plum, I finally said of the view, "This is Photo-shopped. It's GOT to be Photo-shopped." You've just never seen water so aqua, or sunsets so intense or sand so white. It's almost literally stunning. Soak it up when you're there. It's magic.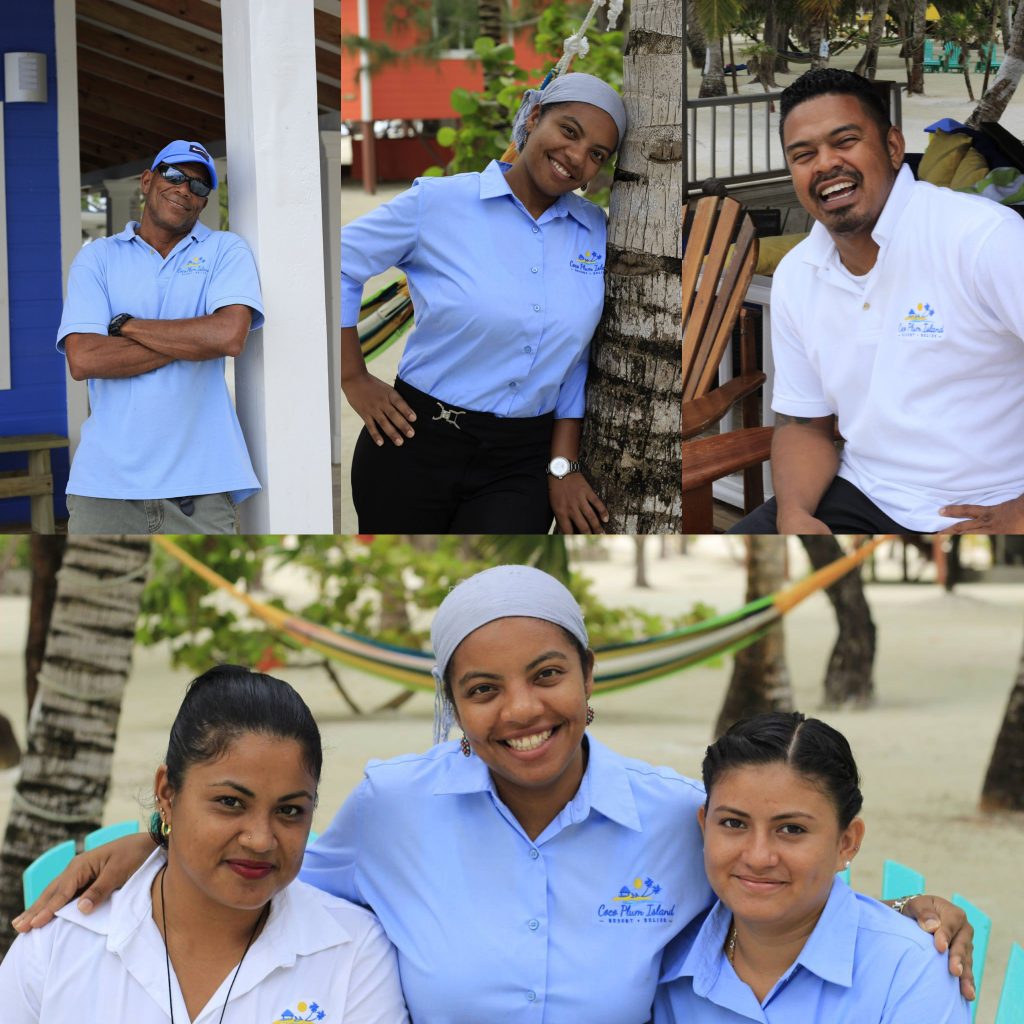 1.) Their Slogan 
Coco Plum's slogan is "You're only a stranger until you arrive" and they're not kidding even a little bit. The number one reason my husband and I keep coming back to Coco Plum is because of the island owners and staff. If it's true that "actions speak louder than words" then you may want to pack some heavy-duty earplugs for your trip, because the sincere care you'll experience and friendships you'll form there speak loud and clear: These people truly love their guests. I can't say it better than the conclusion of my first Trip Advisor review:
"FINALLY …STAFF:
You know when you're getting ready to leave from a vacation and you go to hug the staff goodbye (have you ever hugged staff goodbye?) and you unexpectedly burst into tears because somehow, magically, they've buried themselves into your heart and become more than wonderful people who showed you a good time, more than friends – somehow they've become your extended family? No? Never happened to you? Me either … until now. Is it the culture? Something in the water? I must give credit to Belize and the hiring practices of Coco Plum for this. They are seriously stellar people. They started as 'staff' and ended as family. I don't know how, but it happened and we felt like we were leaving our family behind and part of our hearts with them.
And so, this is why we've already rebooked for our 3rd trip next year. Yes, the island is gorgeous, the food is fantastic and the air is rejuvenating. Yes, you'll relax and sleep like a baby and get a nice tan and see some amazing things you've never seen before. But it's the people we can't wait to get back to. It's the people we love and miss. San Francisco? NO. We left our hearts in Belize on Coco Plum Island Resort."
In conclusion, welcome to Fantasy … Coco Plum Island! It's even better than what you've been dreaming of.
Blessings, fellow traveler,
~ Kris Rocha
Now that you've heard it from a fellow traveler like yourself, we invite you to contact us directly and join us in paradise! Our best rates of the summer run from August through September and we're offering 10% off all inclusive packages stays. No stress – just reserve your cabana and everything else is included!
Warm Regards,
Coco Plum Bloggers
Call or email our Reservations office today!
1-800-763-7360
Save
Save
Save