Fall in love all over again with our private sunset cruise along the Caribbean Sea.
Trust us when we say there is no better way to celebrate your love than with a blissfully romantic cruise. Watch the Belizean sunset while enjoying an outstanding array of fresh tropical fruit, cheese, and of course – wine! The best part about our sunset cruise is that it is totally private – just you and your honey (and our experienced boat captain) will take in the expansive views as the sun sinks into the horizon of the Maya Mountains.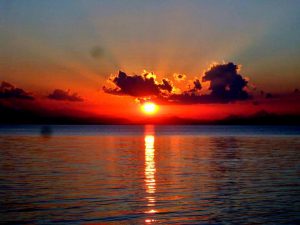 Our sunset cruise at Coco Plum is an absolute favorite for couples staying at Coco Plum. Whether you are celebrating a special occasion such as birthday, anniversary, honeymoon, or are simply reconnecting on a lovers' getaway, this evening cruise is a must-do activity!
Read for yourself:
"If all that wasn't enough, we were also taken on a sunset cruise on a boat beautifully decorated with flowers, with cheese, crackers, fruit, and a bottle of champagne, driven around by one of our favorite staffers, Robert."
– TripAdvisor review by @SL2536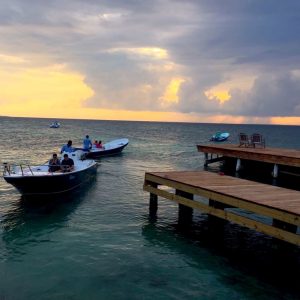 Coco Plum Island Resort is an award-winning Top Hotel for Romance and is surely the epitome of love. With extra touches like the sunset cruise, couples massage, and private dinner on the overwater docks there are plenty of opportunities to make your stay with us even more memorable. And we'll surely be soaking in that feeling throughout the entire month of February. Book your Valentine's Day escape today because there are only a few cabanas available.
Warm Regards,
Coco Plum Bloggers
Call or Email our Reservations office today!
1-800-763-7360