When National Geographic journalists Jennifer Barger and Kennedy Elliott decided to take a look at the future of airline travel at the end of 2020, they ran into all sorts of fears and trepidation. "Regardless of age or politics, [most people] aren't comfortable traveling on airplanes now."
Only 24-percent of the people they interviewed intended to fly in 2021, but progress made by scientists to reverse the virus's upward trajectory has begun to impact the way people are thinking about a 2021 vacation. Some are taking "wait and see" attitudes about summer, but a surprising number say they are considering travel in the fall. Given its proximity to the U.S. and the fact that English is the nation's first language, a Belize vacation makes an ideal choice for travelers of all ages.
September, October, and November in Belize are perfect times to visit since temperatures begin dropping from summer highs, tourists have yet to flock south for the winter season and showers keep this tropical paradise green and flowering. You may not care about the showers since time in Belize is best-spent swimming, kayaking, sailing, scuba diving, and snorkeling, so you'll already be wet!
All of this and a private island, too?
Why sojourn on the mainland when a private, adults-only island can be your Belize fall vacation destination? Coco Plum Island Resort may be small but it's huge in terms of the unique amount of privacy, personal attention, and opportunities guests enjoy while staying on this lush tropical island that hosts only 42 people at any given time.
When TripAdvisor travelers named Coco Plum Island Resort the #1 Hotel for Romance in the World in 2020, travelers took note of this sanctuary situated on just 16 acres of heaven. Surrounded by pristine beachfront and edging the Caribbean Sea, there are only 18 private oceanfront cabanas on the island, which is why couples agree that no property offers as much privacy, intimacy, and luxury.
Unwrap a Belize fall vacation package to find autumn bliss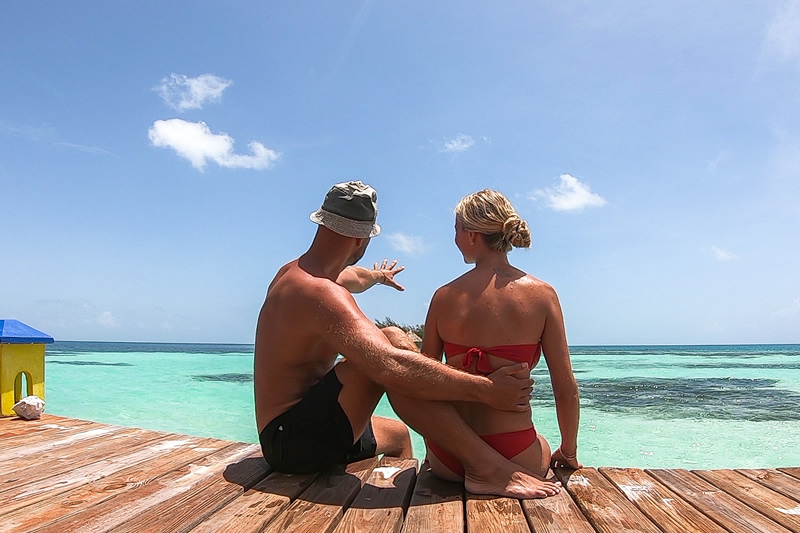 Whether your desire to stay at Coco Plum is wrapped around a marriage proposal, honeymoon, or romantic sojourn, all inclusive packages eliminate decision making! Couples are treated to impeccable accommodations, unique dining experiences, in-country transport to and from the island plus taxes and incidentals.
Depending upon the chosen package, guests may enjoy unlimited alcoholic beverages plus aquatic and jungle tours, so whether you two want to stay active from morning to night or your idea of recreation is lying on the beach or your private balcony, tailor your stay to suit your desires. Alternately, try your hand at kayaking, paddle boarding, and snorkeling, or devote a majority of your time to the swimming pool or being pampered at the resort's Serenity Spa and Yoga deck.
According to travel experts, even reticent travelers will be ready for Belize fall vacations and given the island's size, waiting to make reservations isn't a good idea. Contact staff now at this toll-free number: 1-800-763-7360 or e-mail contact@cocoplumcay.com. Fall is just around the corner. Don't miss out on the experience of a lifetime by waiting too long to set your watch on island time! And if you find that Coco Plum is all booked up, check out her newest Sister Resort: Manta Island Resort, located on Glover's Reef.
1-800-763-7360