Leave it to Metro.com, one of England's favorite reads, to get to the heart of lifestyle advice. For journalist Katy Horwood, that means intimacy. "Whether you are in a new relationship or fancy adding a bit of sparkle to a long-term one, there is one thing that will guarantee a bit of extra fizz – and that's a romantic weekend away."
Make that a weekend at a Belize Island Resort and triple the magic. Why does it matter where you go to enjoy your idyllic romantic getaway? Because the right Belize Island Resort transports you far away from things that dominate your days: routines, work, obligations and demands that suck up your time and energy.
You need more than a hotel room with room service. You need a completely private cabana or a 3-bedroom 3-bath over-the-water bungalow on a private island. This island has been called the world's most romantic resort by couples who have been to Coco Plum Caye. Couples retain the spark of rediscovery in each other long after they leave.
Why this Belize Island Resort?
Because a visit to Belize is effortless. Located a few hours by plane from the U.S., Belize's first language is English and because Coco Plum Resort was designed as a couples retreat, architects created accommodations that double as extraordinary love nests, 1,000 miles away from the outside world.
Proximity, language and exclusivity aren't the only compelling reasons to put this thatch-roofed haven atop your list of ideal Belize vacations. The island is so small, there are no crowds, if want to share your romantic adventure with friends, this 3-bedroom 3-bath over-the-water bungalow will accommodate your party, giving you ample room to socialize in the full kitchen, dining and living room areas during your stay.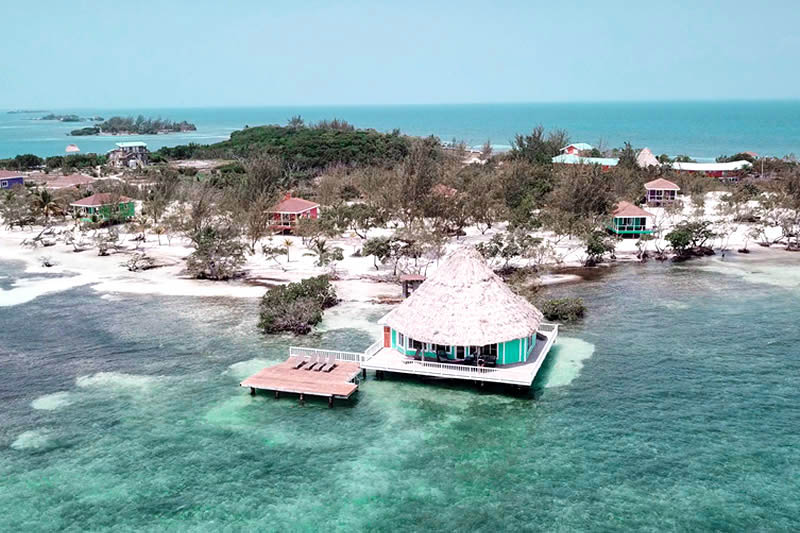 An effortless experience
Because you and your companion(s) will be treated to meals, local alcoholic drinks, transport to and from the island on your arrival and departure days as well as popular water sport activities — all as part of a Belize All Inclusive deal, your 8 day/7 night stay won't require you to do much more than change into swimsuits, nap in a hammock, roam the island's periphery and enjoy meals and snacks daily.
Find out why leading travel authorities like Conde Nast Johansens and TripAdvisor continue to lavish Coco Plum Island Resort with praise that includes being named Belize's #1 small hotel for romance two years in a row. Sound too perfect? There is only one reason you and your main squeeze may run into disappointment: If you don't book early enough, you could be out of luck!
As you can imagine, this one-of-a-kind Belize All Inclusive resort is a favorite of romantics, so booking 9-to 12-months in advance of your stay isn't just a practical move, it's an essential one if you're to get the dates you want.
Take your relationship to a whole new level by giving it the romance and intimacy every couple needs to keep the excitement alive. Belize vacations don't come any more romantic and when you think of how transformative a week on Coco Plum Island can be to your love life, you won't want to wait to book your stay in paradise!
1-800-763-7360