Inc. magazine is a must-have resource for people who consider their careers of great importance. Editors have often driven home advice on vacations that support medical research: Working nonstop without taking a break is harmful to mind and body in so many ways. That stated you may worry that if you take too much time away, you'll turn into a sloth. And you may already have discovered that quick vacations offer little relief. Longer vacations are the only solution to this conundrum.
There's a science behind an optimal amount of vacation time that impacts our health and welfare, and both Inc. and Wall Street Journal editors agree that eight days is the ideal amount of time for a vacation if you hope to get the most amount of pleasure from a getaway. Additionally, a vacation that lasts at least a week gives travelers the biggest bang for their buck, too.
Why banish all thought of vacationing for shorter periods of time? Human Resources expert Tim Sackett breaks down that 8-day directive. You need day one to settle in. Unless you're OCD, you'll need the last day of your stay to tidy up ends; pack, reward staff, and say goodbye to other guests. Make your escape to a tropical island like Belize's Coco Plum Island Resort, and you'll want to add final diving, swimming, fishing, or snorkeling adventure to your last day in paradise.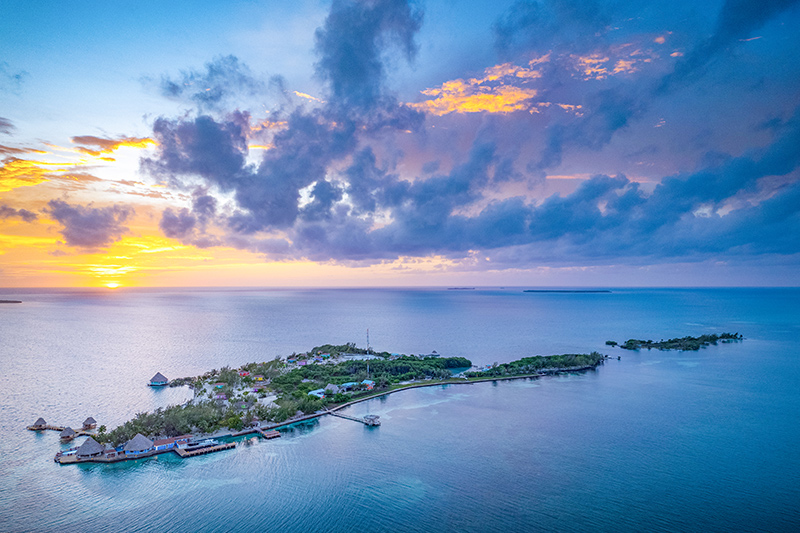 How to squeeze every drop of joy out of your island stay
Having adopted this 8-day vacation timeframe as gospel—and understanding that the first and last days are likely to be taken up with decompressing and girding your loins as you reluctantly prepare to leave this haven—that leaves 6 days in the middle to get your fill of sun, fun, healing and experiencing everything the Caribbean has to offer.
Given this sage advice, you'll want to plan for no fewer than 6 nights on the island. Lift every bit of responsibility from your weary shoulders by grabbing a Belize all inclusive package that frees up your time, energy, and spirit, so you maximize every moment.
When you're in heaven, days fly by
For a small island, Coco Plum offers unlimited opportunities to style your vacation to suit your personality. Are you an adventure seeker? Fill your days with water sports. Eager to wear your sloth badge with pride? There are enough amenities and relaxation opportunities to satisfy your appetite, and since your digs, gourmet meals, air transfers from the international airport to Dangriga, and boat transfers to and from the Belize mainland are all included, your brain gets a vacation, too.
Guests too exhausted to know what they want to do are especially thrilled to learn that they can add a la carte Belize tours to their stay at any time simply by telling Coco Plum staff that their stamina has returned and they're up for fun! Even if you fought the idea of taking a full week away from your responsibilities, you'll likely wind up thanking the scientists insisting that it takes this much time to fully unwind. Doing so at an award-winning resort in the Caribbean is, of course, the icing on the cake!