If you're like most of us, Zoom, mobile phones, landlines, and occasional in-person meet-ups sustained you throughout the struggle to stay safe and healthy during Covid. Given the changing face of pandemic conditions, it's time to think about in-person meet-ups like the girls' getaways you and your besties took before the virus arrived.
You could go to Europe where iffy health protocols may not meet your standards and you'll need a translation app to get along. You could book a week-long U.S. vacation at a resort and spend what Bankrate quotes as $1,558 per person or you could go abroad to Belize where a girl's holiday on an island would cost you less!
Coco Plum Island Resort: Where gal pals find bliss
Leisure magazine editors offer tips for a memorable vacation so when you plan your Coco Plum Island Resort getaway, adopt all of these suggestions:
1. Share the planning. Give each group member a specific responsibility so everyone feels included.
2. Pool your finances or create a savings pool to cover the cost of a Belize all inclusive package that bundles everything group members need and want at one affordable rate.
3. Don't overpack. This is a small island and the fashion police never come to Coco Plum. Pack light and make no excuses!
4. Celebrate the introduction of Belize's travel insurance. It costs only $18 but the reassurances you and your friends receive are priceless.
5. Figure out a decision-making system just in case members of your group differ. You may not have to employ it, but knowing it exists is reassuring.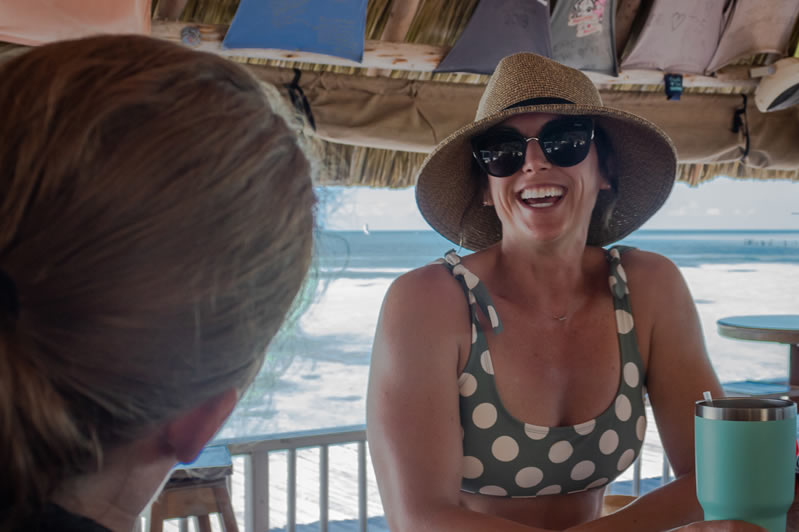 Not everyone wants to do the same things. Honor that!
Recognize and respect differences in your friends' interests and encourage group members to book additional tours, Add-Ons, and a la carte tours that contribute to each one's memorable getaway. Make sure everyone knows they are financially responsible for extras upfront.
No girlfriend adventure would be complete without spending time at Coco Plum's amazing Serenity Spa, tucked into a verdant grove of greenery where private massage rooms and outdoor decks contribute mightily to any service you choose. There's an open-air yoga deck overlooking the Caribbean Sea that makes this a special place for all your girlfriends eager to relax and restore their minds and souls.
Nobody goes hungry
Since your package includes fine dining at the island's eatery no worries about any group member's dietary restrictions. The culinary staff is happy to see the nutritional needs of anyone with food allergies or food preferences. Be sure to make your requests known to Reservation Team members when you book.
Whether your group intends to rent the entire island or occupy a small corner of it, relax knowing that Coco Plum staffers are miracle workers when it comes to making your girlfriend getaway spectacular. Don't forget that local beverages are included with your package, the perfect excuse to plan a daily cocktail get-together so everyone can relax with a cool beverage while sharing colorful details of their daily adventures!
1-800-763-7360