It's common to feel a mix of excitement and trepidation as you prepare for your first overseas adventure. Even if you read every packing article in print, even the bravest neophyte wonders, "What if I run out of essentials or don't pack the right clothing?" But if you keep an open mind and remember the following advice, you'll get used to your destination in record time!
What to expect from your first trip abroad
You'll learn more than you ever imagined once you open your senses to the sights, sounds, tastes, and experiences that make every day unique.
You'll worry a bit until you get into the rhythm of the cultural changes you experience. It's normal.
You'll be slightly inconvenienced. Things you take for granted may not always be available. From Wi-fi dependability to solar power, the phrase "go with the flow" has never been more appropriate.
You'll become addicted. With few exceptions, international travelers forget about inconveniences fast, focus on gathering memories and start thinking about the next trip. Travel is one of the healthiest addictions on earth.
How can you eliminate some of the worries, and focus instead on the exhilaration of a first-time trip abroad? By choosing a nearby nation where English is spoken so you don't start your maiden voyage jet lagged or wishing you had paid attention in Spanish class! Where to go? No brainer. Belize; home to English speakers and short airline flights in addition to the most welcoming people you've ever met.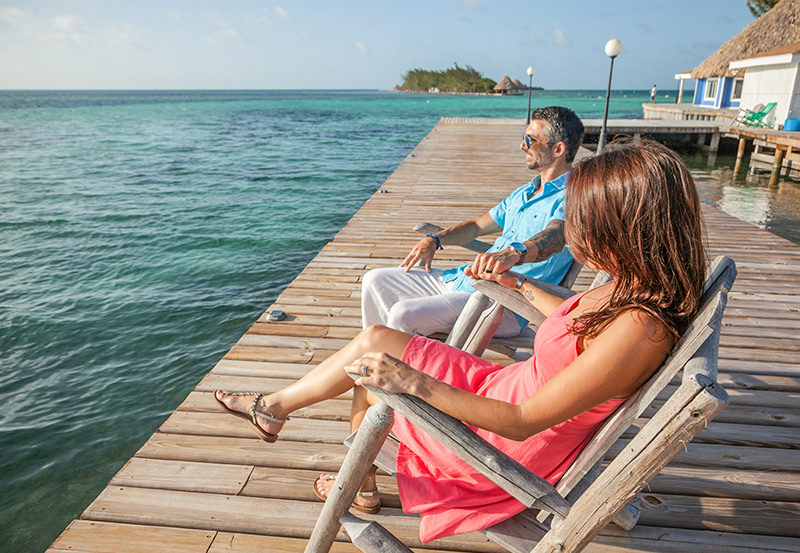 Belize is delightful. A Belize island is awesome!
Maximize the benefits of your first overseas trip by skipping mainland resorts and heading for a private island capable of enhancing every aspect of your Caribbean stay. Coco Plum Island Resort is the ultimate tropical getaway and it's especially ideal for travelers who abhor crowds and aren't fond of large commercial lodgings, either.
Coco Plum's Belize all inclusive packages simplify things even more because once you select this option, you have taken care of lodgings, food, onsite amenities, and the extras you expect from a world-class resort. If you're so inclined, book add-ons to fill out your itinerary. Since packages include water sports and select tours, you couldn't possibly get bored, but if you grow so enamored of Belize excursions that you want to keep going, the staff is delighted to book additional tours so you don't miss a thing.
No worries about how you'll get to the island, by the way. Every Coco Plum guest receives VIP treatment, so once your plane lands at Belize's international airport, air transfers to Dangriga, plus mainland boat transfers, are included in your package, so you'll be taken care of the moment you enter Belize air space. First time overseas? You'll return home with a serious case of The Travel Bug! There's no cure, but you can mediate symptoms fast by choosing your next destination as soon as you unpack.
1-800-763-7360