Whether you're a newbie or you fancy yourself the next Jacques Cousteau, diving in the Caribbean is truly the ultimate experience for aquatic sports enthusiasts and one of the reasons why no region compares to this one. While the thrill of the dive is epic, you may not know about the awesome health benefits every diver receives from this activity. Among them are these surprising perks you might never have considered:
Enhanced cardiovascular fitness.
A reduction in stress levels.
Improved mental health.
Increased muscle strength and improved endurance.
A communal-based boost in one's social life.
Feelings of euphoria when encountering marine life.
Therapeutic benefits for folks with injuries or disabilities.
Does it matter where in the Caribbean you dive?
You would have had to have been living under a rock not to notice Belize's growing reputation for being the trendiest and most versatile place to dive, and the resort you choose is especially important because you require an expert dive master to oversee your training and experiences. Coco Plum Island Resort has a highly-credentialed master diver, so whether you're a diving pro or you're just starting out, this fact can be a game changer.
Not only does Coco Plum have a dive master, but the resort has crafted three dive tours that pair with the resort's all inclusive package for a carefree experience. Whether you opt for the Southern Barrier Reef, Glover's Reef, or the famous Belize Blue Hole dive tour, you can focus on diving because your digs, meals, local alcoholic drinks, boat transfers, and more are all covered.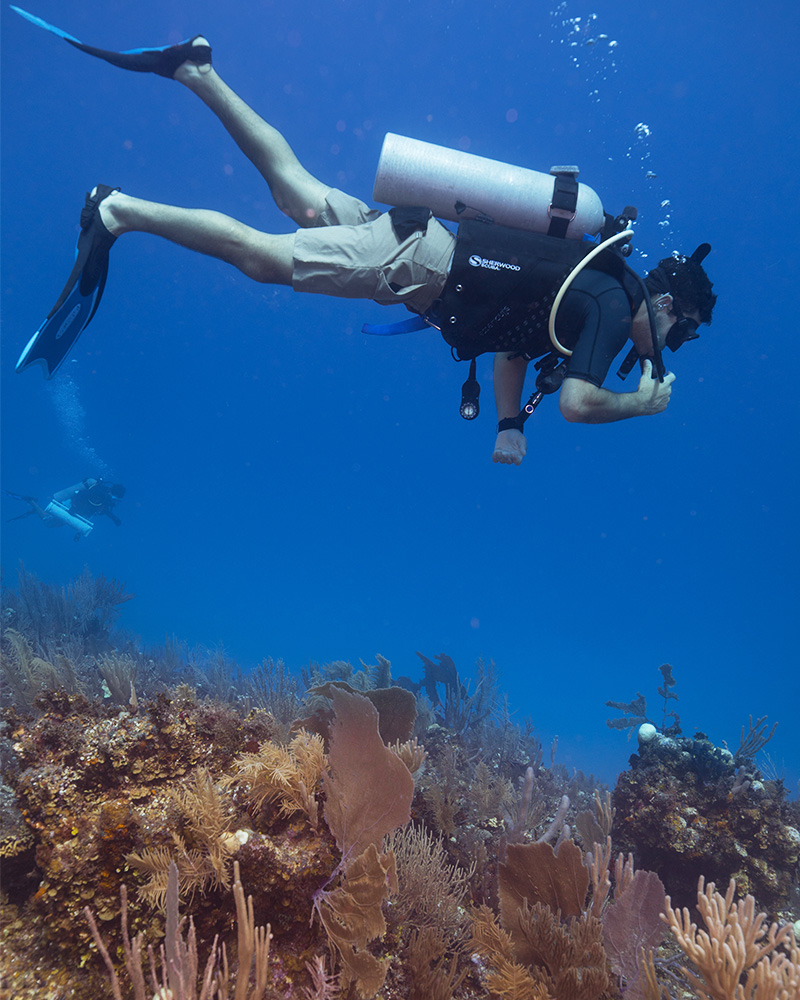 Live like royalty during your diving getaway
Guests may come to Coco Plum for diving, but many find that the ambiance of this private island experience is equally compelling. Only a handful of sea-facing private cabanas dot the premises, so in addition to heart-pounding dives, a sojourn at this adults-only property can be quite the romantic escape, too. Further, guests have access to onsite amenities that include kayaks, stand-up paddle boards, and a Hobie Cat.
Add fishing to your itinerary or go for a swim in the resort's refreshing pool. You can also opt for mainland jungle or Maya ruin tours if you'd like to learn more about this nation's colorful heritage and lush environment. If spa services happen to be on your list of experiences you crave, Coco Plum's emphasis on restorative massages, the waterfront yoga deck, and other fabulous options are your tickets to paradise.
If you've always dreamed about the ultimate dive experience—but have yet to make time to fulfill that dream—your timing could not be better. Given the myriad extras included with your stay, the services of the friendliest staffers in Belize, and the addition of Coco Plum's new dive master to the crew, make a date with yourself to clear your calendar—and if anyone asks, tell them that you're heading to Belize for your health. It's true—but having fun is likely to be the biggest draw of all!
1-800-763-7360