If you're pandemic weary and crave a vacation but you are afraid that there is no safe haven on the planet, you would be wise to book a vacation in Belize on a private island that ensures everything from your health and wellbeing to your need for relaxation. But you've got only a 12-day window to make this happen!
Belize's adults-only Coco Plum Island Resort just announced a blowout Black Friday Special Deal between Thanksgiving Day (November 26th) and December 7th that gets you a $500USD break on a luxurious package in the sun. As long as you book by the 7th, you have an entire year to take that holiday and still get that discount.
For folks planning destination weddings, anniversary trips, and other special occasions set to take place between December 2020 and December 2021, you've just found paradise. Book accommodations during that 12-day period and you'll have so much time to prepare for your visit, there will likely be a Covid-19 vaccine and therapeutics available throughout the U.S. long before this deal's December 18, 2021 deadline runs out.
Now that your appetite is whetted, which package has your name written on it? Browse them on our Belize all inclusive package page and review all of the details each package includes and you'll be convinced that turning this deal down makes no sense.
While this discount doesn't include renting the entire island or availing yourself of the Overwater Villa Package (both are already discounted), you need only stay for four days, book directly with the resort, and use the code: BLACKFRIDAY to secure your reservation.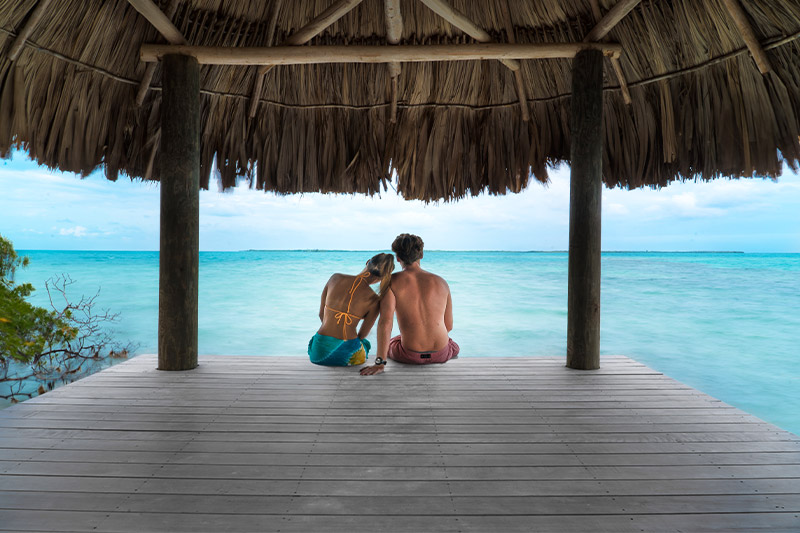 A sojourn on Coco Plum Caye is the stuff of which dreams are made. Only a small number of guests populate the island at any given time because it is so small, so if your goal is privacy and intimacy, there is no equal. Delicious meals, endless beverages, and transport to and from the island are all included, as are specialized tours designed to complement each package theme.
Take advantage of the island's activities and prepare yourself for the freshest meals you've eaten, a mélange of treats that borrow from Belize's traditional Maya, Mestizo, and Garifuna influences, and you needn't worry about your health and welfare since Coco Plum's adherence to Gold Standard protocols are sure to reassure you that state-of-the-art health and hygiene protocols are a resort priority.
The Coco Plum reservation desk is taking bookings in the order in which they arrive and given this 12-day Black Friday Special deadline —plus the small number of luxury digs on the island —you're going to want to secure your reservations now— while you still have myriad date choices that cover your 2021 special occasion or vacation schedule.
Offers like this are rare, particularly during high season when visitors escaping the cold are eager for sun and fun, and it only happens once a year. Don't forget to mention the code: BLACKFRIDAY when you make arrangements online ([email protected]) or by phone (toll-free) at 1 (800) 763-7360. Certain restrictions apply, so please contact us with questions. It's your promise of an affordable, posh island vacation at a time you are likely to appreciate it most of all.
1-800-763-7360