Belize is a haven for over 500 species of birds, making it the ideal getaway for bird watchers and nature lovers alike. Whether you are an expert birder or simply enjoy the beauty of birds, Belize surely won't disappoint with our wide array of tropical birds, both in the jungle and on the sea. Our Belize private island makes for the perfect spot to observe birds in nature.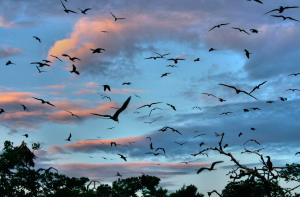 Coco Plum Island Resort is located directly across from the Man-O-War Caye, also known as "Bird Caye." What might seem like an abandoned mangrove island from afar, is actually government designated and monitored bird sanctuary. If you take a closer look you'll see hundreds of birds wistfully circling the island and eventually coming to a rest on the mangrove limbs. As part of our all inclusive packages, our ever informative tour guides will be sure to stop and give you a detailed description of Belize's bird sanctuary, pointing out some iconic birds of Belize on the way to your snorkel trip to the Belize Barrier Reef.
Here are the Top 5 Most Iconic Birds of Belize:
5.) The Brown Pelican. While Pelicans are relatively common in coastal areas, they are truly a treasured staple of Belize. Stop and take a look at their expansive breadth and large throat pouches. If you stay and look for a while you will surely see the pelicans unique diving ability – some dive from heights as far as 60 feet!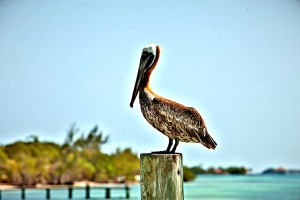 4.) The Booby Birds: Belize is home to the red-footed, blue-footed, and masked booby birds. On Man-O-War Caye you will see many of these red-footed boobies, which are actually the smallest of all the booby species. While the red webbed feet of the boobies are the first thing that catches your eye, it is their skilled gliding ability that stands out as they can seemingly walk on top of the water to catch their prey.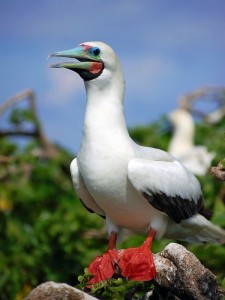 3.) Frigate Bird: Also present on Man-O-War Caye, is the frigate bird that one can see nesting and mating. The booby birds and frigate birds have a unique relationship. Unlike the booby birds, frigate birds do not have webbed feet nor are they able to dive for their food. Thus, the frigate birds can frequently be seen snatching food from the booby birds. During mating season, the male frigate bird throat becomes inflated to catch the attention of the females … what a show off!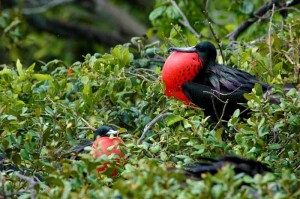 2.) Scarlet Macaw: The Scarlet Macaw is the largest, and by Belizean standards, the most beautiful of all the parrot species. These majestic birds can be found along the upper Macal River in the Chiquibil National Park, and can fly at a whopping speed of 35 miles per hour.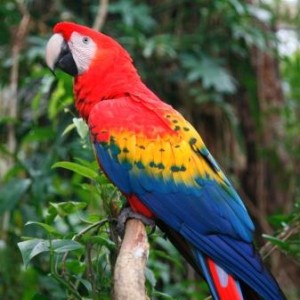 1.) Toucan: And the number one most iconic bird of Belize, also known as the national bird of Belize, the Toucan. Commonly known as bill bird, the keel-billed toucan is a national jewel. It is known for its very sociable behavior and can be found throughout the forests of Belize, nesting in the holes of various tree trunks.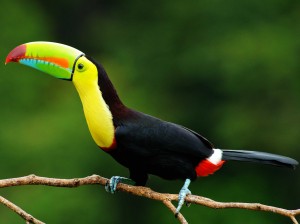 What birds have you seen during your travels to Belize?
Interested in bird watching and experiencing nature in Belize? Contact us today to learn more!
Coco Plum Bloggers