Do you have war stories about going to a tropical resort for rest, relaxation, and romance, only to find little ones splashing in the swimming pool, crying during meals, and generally putting a damper on that the romantic getaway you planned?
Let go of that skepticism. The owners of Belize's upscale Coco Plum Island Resort declared their lush island a kid-free zone, so you're guaranteed the privacy you crave while you enjoy an unforgettable, memorable vacation.
How an adult's only stay on Coco Plum will improve your relationship
You'll find this experience to be freeing and intoxicating.
Both of you will learn so much more about each other.
Minus distractions, your time together will be blissful.
You may find answers to relationship questions that eluded you.
You'll have time to reflect on things that matter within the peace of the island.
What to look forward to as a guest of Coco Plum
To say that Coco Plum Island Resort is the exception to the rule is an understatement. This haven is dedicated to guest privacy. Accommodations are idyllic; each oceanfront cabana is discreetly tucked into the landscape and artfully distanced from the other 17 lodgings, so you'll rarely run into other guests unless you're dining at Coco Palms, the enchanting thatch roof eatery situated at the water's edge.
Whether you choose the 3-bedroom villa or another beautifully appointed cabana, rest assured you will find interiors so clean and inviting, that leaving your digs can be hard to do!
But leave you must if you're to experience the island's amenities that include the resort's swimming pool, complimentary kayaks, paddleboards, and Hobie cat. Snorkel, dive, and fish to your heart's content, but for the most amount of excitement, choose tours that offer you the best of Belize.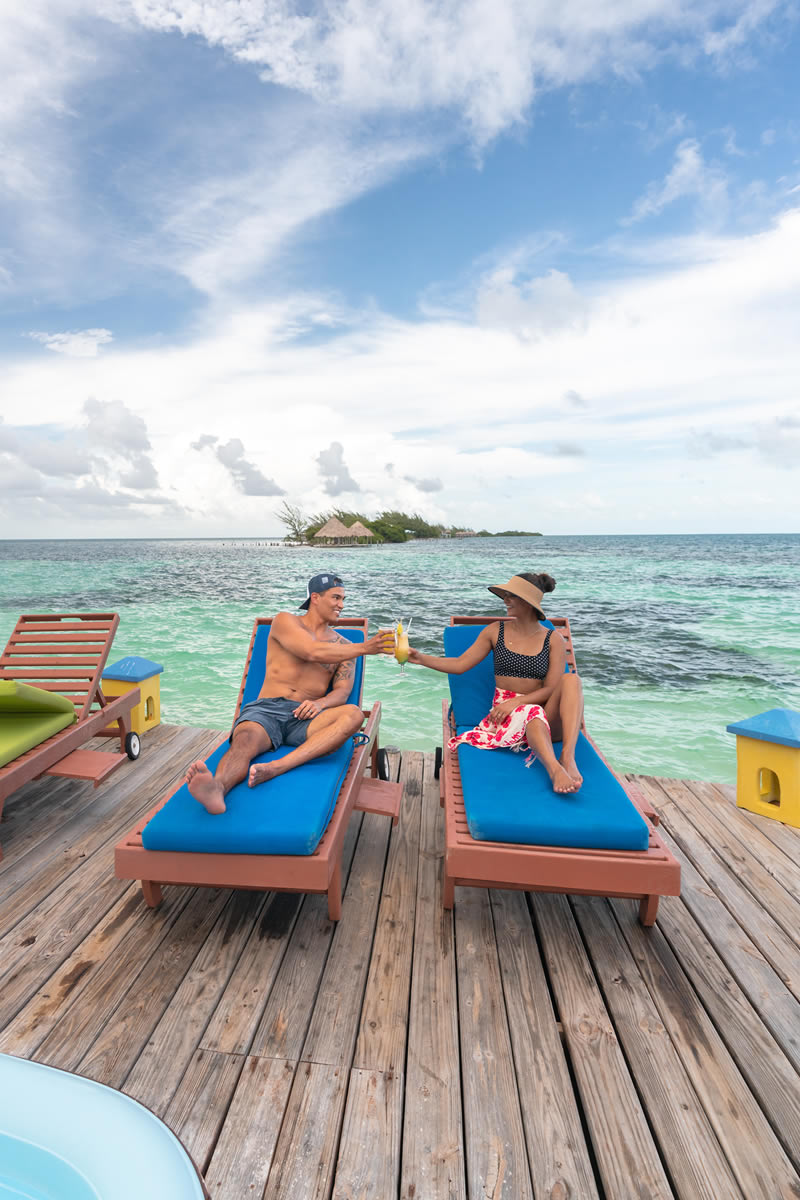 Pick a package for a stress-free sojourn
We don't have to tell you that the Belize all inclusive package remove the last vestiges of stress from a carefree adults-only holiday because every detail concerned with your stay is set in stone before you leave home: accommodations, meals, and best of all, each package is themed so you can focus on your interests while you're busy strengthening the bonds of your relationship.
Can Coco Plum Island Resort possibly offer you more? The answer is yes. With a small number of guests to look after at any given time, staff can lavish individuals with attention and service and then discreetly disappear. You'll discover how it feels to be treated like a celebrity, but it's the quiet intimacy that Coco Plum Island Resort offers that is guaranteed to make the most beautiful and enduring memories.
1-800-763-7360