Wedding trend trackers reveal ideas based on couple's tastes and desires every year. If you're marrying in 2023, adopt one of these trends for the perfect affair.
You already know the derivation of the word wedding is all about cementing your bond, but did you know that honeymoon comes from the Olde English words hony and moone, a term that refers to the sweetness newlyweds enjoy as a result of being treated to enough mead—a potent liquor—throughout the month following the ceremony?
Most couples would prefer to stay somewhat sober during their weddings and honeymoons—at least that's what many tell Coco Plum Island Resort staff in Belize when they arrive at this small, private island during one of the calendar year's most popular months: May. Weather is idyllic. Everyone speaks English. The plane ride to Belize takes only a couple of hours and you couldn't find a friendlier staff than the crew on Coco Plum.
Can you get a unique experience that's trendy, too? Yes, you can. Wedding and honeymoon trends for 2023 are sensible, fun, and adaptable to budgets and personal styles. Add the fact that your affair can take place on a private island and you'll be over the moon.
-Take a Belize Mini-moon at Coco Plum Island Resort after an intimate ceremony and party on the beach. This little paradise welcomes couples eager to skip the big expenses for an intimate affair, and a mini-moon following vows is ideal for couples with slim budgets who don't have as much time as they would like to celebrate.
-Make it an Acti-moon if you two prefer a combination of private time in your lush Coco Plum suite and activities that get your hearts racing faster than they do when you look at each other. Island staff is prepared to help you choose from land-and-sea adventures like scuba diving or snorkeling Belize's spectacular barrier reef, sailing, fishing or visiting cultural hubs where you can dance the night away to the drumbeat of Belizean tunes.
-Schedule an Eco-moon if you two worry about the planet's health and want to visit a nation that prioritizes ecosystems. From wildlife preserves, parks and sanctuaries, expect to be impressed by the way Coco Plum is run as you enjoy an elegant wedding and honeymoon staged by folks who know a thing or two about conservation!
-How about a Mega-moon? Rent the entire island during the month of May if you give Coco Plum staff sufficient notice. From ceremony to honeymoon, everything about your one-of-a-kind stay will be personally designed to welcome you and your party throughout the duration of your stay.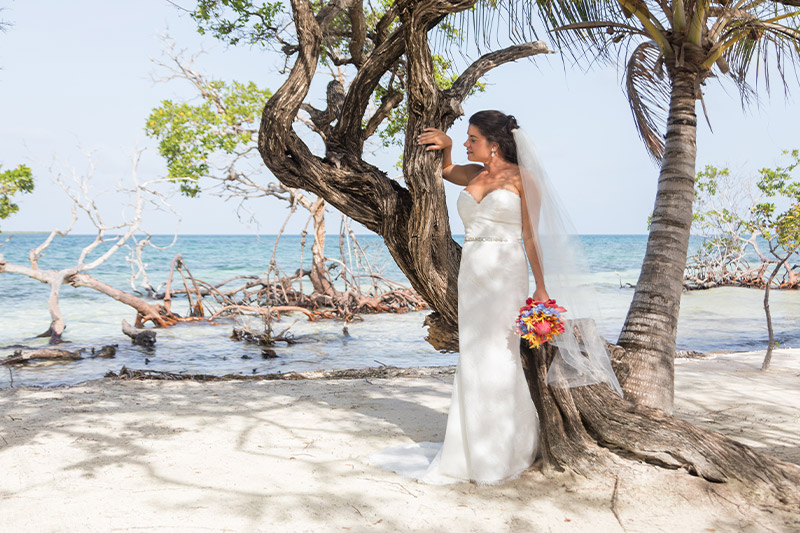 May Coco Plum island wedding and honeymoon rates are affordable since snowbirds start disappearing in April and don't return again until the year's end. The best way to make it an affair to remember? Choose from either of Coco Plum Island Resort's romantic, all inclusive packages. You enjoy a long list of perks, save money and focus on each other, not whether you're spending too much during your wedding trip.
Browse both of these package options: The Honeymoon & Romance Add-On and The Wedding Package Add-On. If you have trouble deciding, that's another thing you'll have in common with couples who decided that their love deserved nothing less than a trendy, pre-paid, private beach island wedding and honeymoon in 2023.
1-800-763-7360