Part of the legend and lore associated with diving off the Belize shore includes Jacques Cousteau's exploration of the legendary Blue Hole in 1971. He helped turn this site into a place of pilgrimage for avid divers, bringing massive amounts of attention to Belize's diving scene. A few years ago, Fabien Cousteau, his grandson, returned to replicate his grandfather's experience, albeit with more technology at his disposal.
Whether you'd like to discover the Blue Hole yourself or just about any diving adventures off the coast of Belize will make you happy, you've picked the right region of the Caribbean for so many reasons. Check your calendar. Pick vacation dates. Find out why beginners and experts wouldn't dive anywhere else!
Top 10 reasons to dive in Belize
Everyone speaks English. No worries about understanding what your diving guide says because English is Belize's first language.
You don't have to sit on an airplane forever. Getting to Belize from southern US ports takes only a few hours. Read your favorite diving guide onboard, but don't plan to finish it.
You'll visit the second longest barrier reef on Planet Earth, a natural wonder so spectacular, astronauts spot it during space missions.
You won't run into crowds of divers who kick up the reef, sand, and silt that can ruin the perfect dive because there are so many isolated places to dive.
You'll become an expert on marine science, able to differentiate cayes from atolls from islands. Wait until you see how many types of marine life you encounter on a single dive!
You can be a friend of Belize marine ecology by diving off the southern coast where invasive Lionfish upset the ecological balance. You can spear one and dine on it.
You may meet Whale sharks if you're diving off the Belize coast between March and June. They look scary but they're not. Swim with them and you'll never forget the experience.
You'll find out why divers prefer vacationing on an island by discovering the epitome of off-grid bliss at Coco Plum Island Resort where the world comes to a blissful halt and diving is the order of the day.
You'll be spoiled by Coco Plum staffers – each trained in the art of people-pleasing. Belize is home to the world's friendliest people. Ask frequent Coco Plum guests for their opinion, they'll tell you that the friendliest work on the island!
You'll simplify your life and enjoy the diving vacation of a lifetime by choosing Coco Plum Belize diving tours with your all inclusive package. It includes everything you need and want.
Peaceful island living in an Eden-like setting. Gourmet meals. Endless onsite amenities. Personal service that has no equal. Staying on an island where tranquility awaits? Priceless. This island paradise hosts few guests at any given time, reason enough to plan your diving pilgrimage to Coco Plum Island Resort now!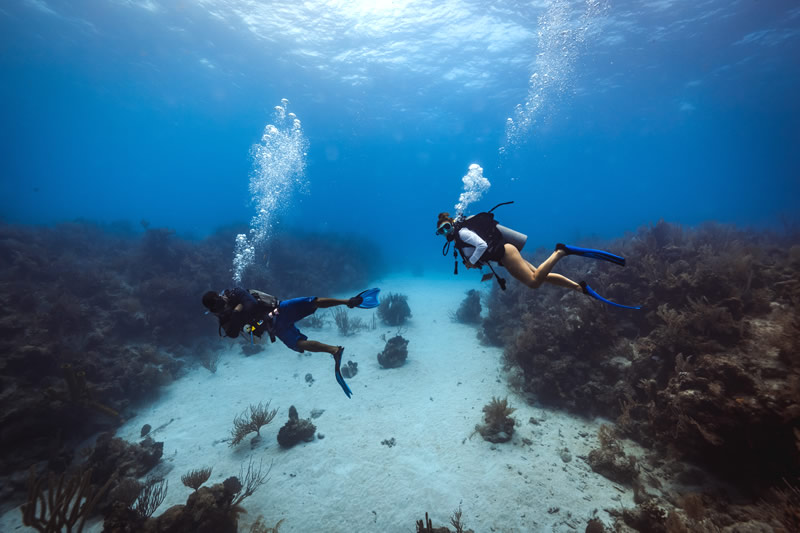 1-800-763-7360