Will your Belize all inclusive vacation be spent amid lush jungles or on an island? Lucky for you, you don't have to choose just one!
Making decisions is hard, writes Dr. Carrie Barron for Psychology Today magazine. "Many people agonize over decisions," she notes, even when both choices are fabulous. Citing depression, anxiety and fear as reasons people suffer decision-making issues, it could surprise you to learn that even picking a vacation spot can be difficult.
Sound familiar? Are you trying to make plans for a Belize vacation but can't figure out whether a jungle or island vacation will be the most fun? We've got your solution: Do both. Select a Belize jungle/island holiday that delivers the best of both worlds, and from the moment you are picked up at the Belize Philip Goldson International Airport (BZE) and taken to your first destination, you'll be enchanted.
Where will you begin?
On the mainland of course. Laru Beya Resort, located in the heart of Belize on the Placencia Peninsula, has morphed from a quiet fishing village into the nation's hottest tourism destination thanks to 16 miles of sugar-white beach. Your stay at Laru Beya places you close enough for access to quaint villages, but there's so much to do on the resort property during your stay, you won't want to leave.
Another option is to stay at the award-winning Belizean Dreams Resort in Hopkins Village, home to beautiful beaches and the eclectic Garifuna people. Hopkins Village is an excellent base to learn about the Garifuna ethnic group and their contribution to Belizean society.
Meals prepared by world-class chefs are included in your package as are unlimited local libations that include Belizean treats like coconut rum. During your stay at either Laru Beya or Belizean Dreams Resort, get lost in verdant jungles, explore ancient Maya Cities, go bird watching or hiking at a wildlife sanctuary, learn about Belize's exotic flora and fauna, take advantage of complimentary kayaks, snorkel gear, paddleboards, or pilot a small Hobie Cat. A boat from Dangriga gets you to your second vacation spot: Coco Plum Island Resort.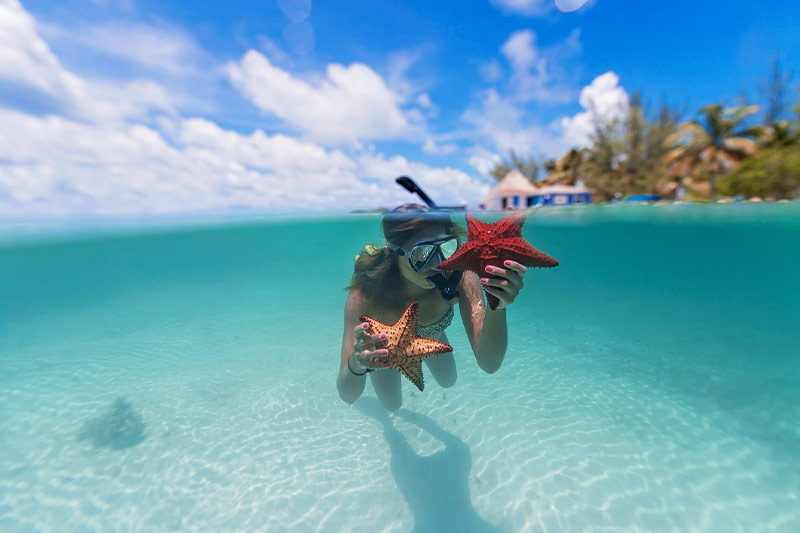 Your holiday keeps getting better
When you see this private island you may not believe your eyes. A gorgeous oceanfront cabana awaits. It is the ultimate in privacy and luxury, balancing earth-friendly features with tropical beauty. March, April, and May are the best months to come for this combo because snowbirds have left and the weather is amazing.
A private, romantic dinner for two awaits you on the island, accompanied by a bottle of wine. Hammocks for two and a beautiful pool continue your journey of discovery as you stroll the island enjoying the second half of the vacation you won't want to end.
Having come to the realization that you don't have to decide between jungle and island may be the very best reason of all to say yes to this amazing duo. You owe it to yourself to take this philosophy forward once your vacation ends. Next time someone says you must decide, you can respond, "Maybe I don't!"
1-800-763-7360