Are you finding it hard to return to life as you knew it before COVID? It's been over two years and perhaps it took you nearly that long to adapt to sequestration mode. It's okay to admit that during this time, you developed a new appreciation for the quiet and solitude that you became accustomed to while locked down.
There's a fabulous way to revisit this state of peace: Take an island vacation where limited contact with people and disconnection from stressors is likely to sound like a gift from the gods, and where you can reclaim that tranquility without emptying your nest egg at Belize's Coco Plum Island Resort where getting back to bliss takes just minutes.
Your island in the sun
How does an island vacation differ from other types of holidays? For starters, being surrounded by the cooling waters of the Caribbean Sea treats your lungs to breeze-borne air that contributes to enhanced breathing. In concert with mindful breaths, your pulse slows as calm spreads throughout your body, at which point, everything about your stay contributes to your well-being.
Getting your head into an island state of mind helps you sleep better, digest your food more efficiently and your immune system gets a boost, so you not only feel better, but your mind feels sharper, too.
At Coco Plum Island Resort, your vacation goals come first with staffers who are as dedicated to making sure adventure-seekers experience every thrill imaginable – including forest trekking, zip-lining, cave repelling, and an assortment of other spellbinding opportunities – as they are to helping guests reserve one adroitly-placed hammock under a palm tree while replenishing cooling beverages.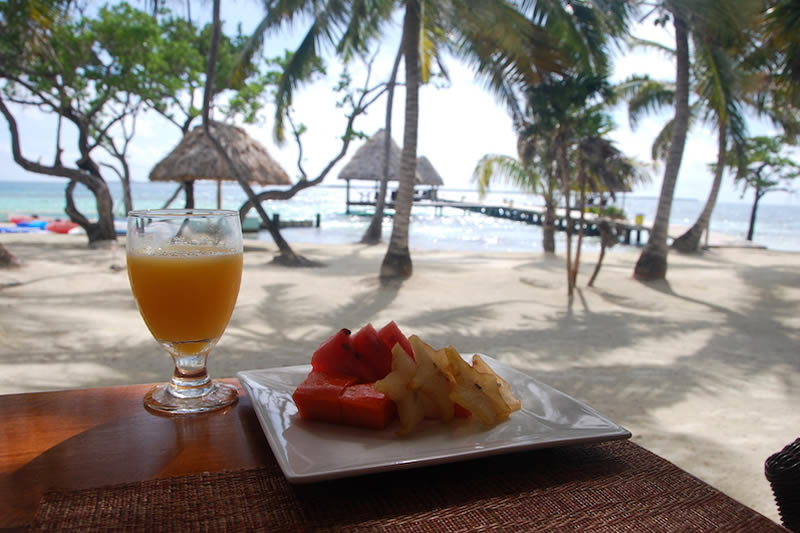 Toss your worry list into an open fire
What sorts of reassurances do you require to be assured that everything about your stay is included for a single price? Start with the island's beautifully curated all inclusive Belize packages, each designed with folks in need of escapes in mind.
Included in each all-inclusive bundle is gourmet dining at the island's charming eatery where a tasty mix of Maya, Mestizo, and Garifuna cuisine awaits. These photos are guaranteed to whet your appetite, so scroll down the page slowly to savor each image.
In addition to fabulous cuisine, onsite amenities like Coco Plum's swimming pool, kayaks, paddleboards, Hobi Cat Wave are available gratis to all guests. Alternately, browse the Coco Plum Belize tour menu to see how many opportunities are available to guests eager to discover Belize's wonders.
Everything you dream about and more
Best of all, this adults-only property offers a sanctuary for harried guests who often joke, "I love my kids, but I desperately needed a break! This is heaven." Nowhere is that celestial reference more notably felt than at the Serenity Spa where personal services exceed every expectation guests bring when they arrive.
What will you love most? The quiet? The adventures? The fact that there are only 18 cabanas and one 3-bedroom overwater villa on the entire island so you enjoy unprecedented privacy? Rediscover one of the few benefits of COVID: a solitude that's restorative and life-affirming. Your island experience. Your customized itinerary. Friends will be jealous. It's okay to smile when you think about them as you run your toes through the sand!