Many couples approach their honeymoon too exhausted to cuddle, which is why a nearby destination is so conducive to relaxation, it takes just a couple hours to get into the right state of mind.
If you've been reading travel magazines, you already know that Belize can't be surpassed when it comes to proximity and tranquility, and since it's just a short distance by plane, you can decompress during the flight to arrive feeling blissful.
The weather is awesome. Beaches are pristine. Jungles are magnificent and couples are treated like royalty until the moment they (regrettably!) leave. Need some tips to make sure you stay is extraordinary? We've got them.
1. Belize is affordable compared to neighbors like Costa Rica, thus couples get twice as much value. For example, romance is perpetually in bloom at island resorts like Coco Plum Caye where privacy, intimacy, and imagination won't cost you a fortune.
2. Is there such a thing as too much private time? Not on your honeymoon. You won't run into crowds when you choose an island getaway (unless you decide to rent the entire island, which is doable). Coco Plum Island is designed in such a way that couples can go days without seeing a soul.
3. Island staffers practice the art of discretion. Whether it's leaving a breakfast tray at a doorstep, hanging a "Do Not Disturb" sign on a door or suggesting activities, count on the staff to keep your secrets and your schedule.
4. Newlyweds eager to surprise each other can enlist staff members to help. Whether it's a private beach supper, scheduling a private sunset cruise or requesting extra flowers, all it takes is an advance notice to pull off your big or little surprise. Alternately, ever heard of a suitcase surprise? We'll leave that to your imagination.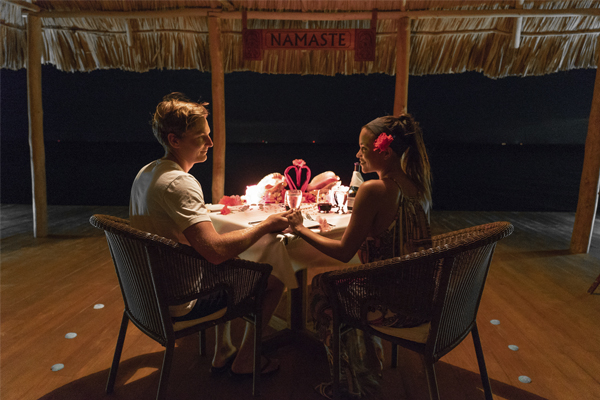 5. Since your marriage is new, how about trying a shared activity neither of you have tried before? Snorkel Belize's offshore treasure, the Great Barrier Reef. Catch fish or explore a jungle. Take selfies using Maya ruins as your background. Wow!
6. Keep secret journals of your days on the island. Don't exchange them until you get home. Make sure there's a bottle of bubbly on standby when you share these "love notes" dedicated to your wondrous honeymoon.
7. Eat up on your vacation. Sample ethnic cuisine like rice and beans cooked in coconut milk and stewed chicken throughout your stay. Choose Coco Plum Island and you'll never get hungry. Further, the Coco Palms Beach Bar staff knows how to mix every beverage under the sun.
8. Opt for a Belize all inclusive package. Get all of the excitement, fun and attractions without the hassle of presenting your credit card every time you turn around. Only Cupid rivals all inclusive packages in terms of taking the stress out of a honeymoon.
9. Dress for the occasion—or don't. Nothing is sexier than a minimal amount of clothing and since Belize's weather has you covered year-round, it may be the chance you've always wanted to flaunt your flirty side.
10. Adopt an island living mentality for the duration of your honeymoon. Wear a flower in your hair. Make out on the beach. Craft memories that tell your love story. Do it all on a private island like Coco Plum Island, where sunsets have no equal and intimacy rules!