Do scuba divers possess unique personality traits? To find out, we asked Canadian dive pros Maggie and Jody of AdventureSports.ca and received a fascinating reply. Scuba divers, they say, not only have awesome communication skills and highly-developed organizational skills but they are more eco-conscious than other aquatic sport participants.
They easily differentiate Jacques Chirac from Jacques Cousteau and nobody loves to have fun more than scuba divers. Sound like you? We can see you nodding your head yes – so allow us to introduce the ultimate scuba diving destination: Coco Plum Island Resort in Belize.
Where to Scuba Dive in Belize
Coco Plum is, without a doubt, an amazing place to scuba dive in the Caribbean because unlike mainland resorts, you don't have endure a long boat ride getting out to landmarks like the Belize Barrier Reef, which is just a quick 10-minute boat ride from the island.
And because Coco Plum staffers know that the only thing visitors crave more than a steady diet of scuba fun is the privacy, luxury and amenities found on an island this small and intimate, guests get their fill of personal attention and relaxation onsite, too.
Because the island attracts scuba divers year-round, Coco Plum management created an all inclusive Belize Scuba Diving vacation Package that invites guests to "scuba dive your heart out"! This dive lover's package includes two local dives per full day of your stay, a posh private cabana, delicious meals and boat transport to and from the mainland.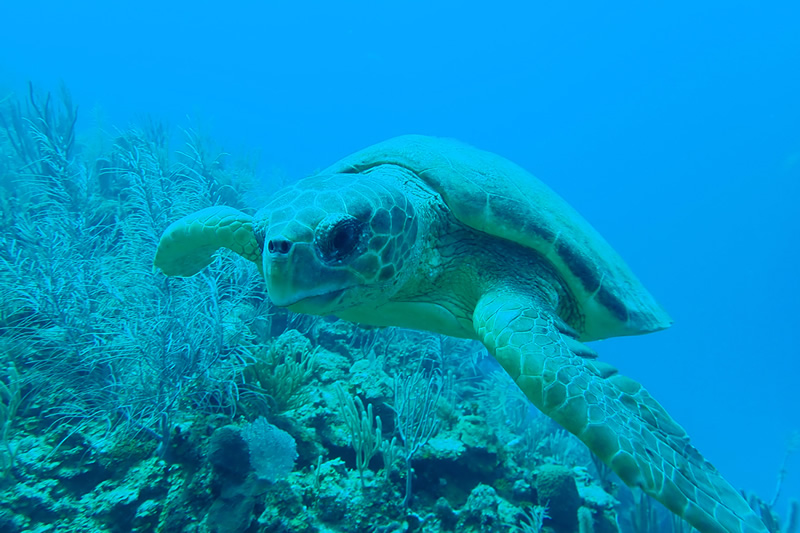 Unforgettable Diving in Belize
No matter what your skill level happens to be, you'll find paradise as experienced PADI certified dive masters guide you to the best diving along Belize's Southern Barrier Reef. You'll peek into caves. Discover a rainbow of corals. Linger in grottos. And see amazing aquatic creatures during your extraordinary dive experiences.
Having put into place stringent measures to keep guests safe and healthy despite the ravages of the Coronavirus, guests arriving from the mainland will notice the high degree to which the resort has gone to ensure an enjoyable vacation, and if you can't get enough ocean during the dives included on your itinerary, Coco Plum offers extras guests crave: Hammocks for two, palapas and beach beds plus free use of kayaks, snorkel gear, stand up paddle boards and a Hobie Cat. And towels. Plenty of towels!
You won't need much in the way of wardrobe on this tiny island filled with luxurious extras that keep repeat visitors coming back as often as they can get away, and given the amazing scuba diver personality traits you already possess, you probably need a diving vacation more than most, so what are you waiting for?
Visit our scuba diving vacation package page to see what all of the excitement is about. Then grab your favorite rucksack, fill it with essentials like sunglasses, sunscreen and swimsuits and grab the next available plane to Belize. There's a whole ocean waiting for you once you clear your calendar and book your stay!
1-800-763-7360