For adventurers who have never met a wet suit or oxygen tank they couldn't embrace, there's no question that Belize is the epicenter of diving in the Caribbean. Situated along the second most impressive Great Barrier Reef on Earth, a 185-mile geological wonder, Belize is also in close proximity to offshore atolls that make great dive "jumping off points."
In sum, you couldn't find a more spectacular place to scuba dive, or to do deep sea diving for that matter.
There's a wonderful world of marine wildlife waiting for you to join them in the deep and the sheer number and variety are staggering. This undersea kingdom is composed of 400+ fish species, but not everything you encounter during your deep dive will be wagging fins and tails.
This area is also home to 70 coral types, large sponge families and enough colorful Gorgonian varieties to test your observation powers. We can't promise that all 1200 known species of Gorgonians will be present when you visit, but it may not matter given the smorgasbord of marine surprises awaiting you below.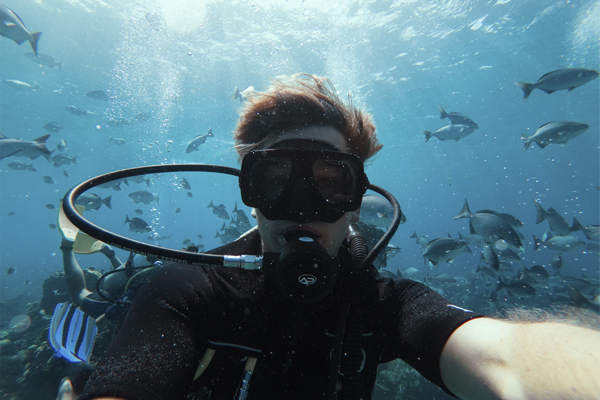 Serious divers have no patience for delays! They love the short flights to Belize that whisk them to the center of the action in just hours and prefer a resort that gets them as close to the Reef as possible, which is why so many return to Coco Plum Island Resort repeatedly. This award-winning haven is just a 10-minute boat ride from the Reef. Check into your accommodations and it's game on.
In-between your dive sessions, retreat to your private cabana and take advantage of the three meals included with your package. If you're not onsite, packed lunches accompany your sea excursions, so you don't have to worry about starving while you do your underwater thing.
Because Coco Plum's dive packages include two local dives every day during your stay, you get your fill of fun, but in case you are eager to stay active in-between dives, enjoy free use of kayaks, paddle boards and you can even pilot a Hobie cat. Snorkel gear? It's provided, and you can count on the usual bounty of Belize hospitality that includes amenities you expect from a lodging that has become one of the most popular dive resorts in the Caribbean.
But seeing is believing, so peruse package details to see if this pairing of dives and lodging isn't exactly what you've been looking for. Have questions? Contact the Coco Plum Reservation team to get answers and more.