If you're so overwhelmed by headlines, lousy weather and demands put upon you by an unreasonable boss, no wonder you spend time online browsing idyllic beaches and dreaming of the sun.
Over beers with friends, you spin a tale of longing when asked where you would go if a genie granted you a wish. There's no hesitation on your part. Private beach. Non-stop sun. Falling in love again.
Happily, such a place exists and it's only a short plane ride away. Belize's Coco Plum Island Resort meets all of your criteria, and thanks to the resort's all-inclusive packages, you won't need a genie to make your trip affordable.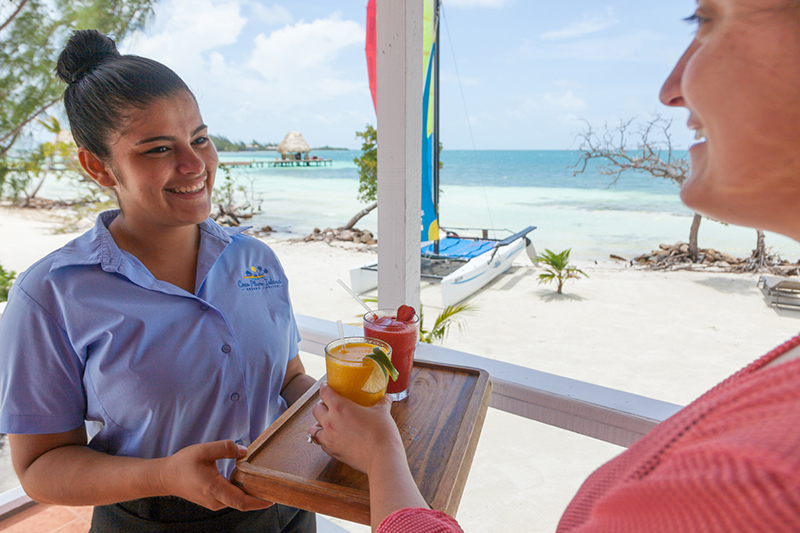 Why Coco Plum Resort? 
It's really private. Only 42 guests stay on this island at any given time, so Coco Plum Island Resort is the antidote to crushing humanity. Surrounded by beachfront and lulled into complacency by the Caribbean Sea just steps from your private cabana, you settle into one of only 18 lodgings on the island.
Having decided that the all-inclusive package is your ticket to savings and your opportunity to take part in only the activities for which you feel the urge, you live on island time, moving from your cabana to lounge chairs or hammocks when the mood strikes.
Speaking of your mood, what are you in the mood to eat, drink and see?
Depending upon the amount of time you have on your healing holiday, your all-inclusive package not only includes meals, beverages, mainland boat transfers, and private digs, but you can select from these excursions:
-Study architectural wonders at the spellbinding Maya Ruins of Xunantunich. Home to ancient people who were quite sophisticated, imagine life thousands of years ago.
-Stop promising you will try ziplining and do it. Sail across the rainforest canopy safely attached to your rig.
-If you can't abide heights, cave tubing adventures down rivers have your name written all over them.
-Nobody misses the world-famous Belize Barrier Reef located just offshore. Will you snorkel and chat up the marine life that's as curious about you as you are about them?
Since resort meals are part of your package, drop in at the resort's eatery three times daily for delicious sustenance, tropical drinks and friendly service. Or tuck into your private hideaway for the duration of your stay.
From warm, personal greetings by your host to your activity choices, having an island at your disposal is just what the doctor ordered. The staff is happy to snap photos of you so you can distribute them among friends you left behind.
But don't feel sorry for them. They could have come with you had they said yes to their own private island dream!