Are you eager to take a relaxing vacation that restores your health, well-being, and sensibilities? If your answer is a resounding "Yes!" you are also smart enough to realize that heading for a bustling area, where the hectic pace you're eager to avoid pervades, getting the respite you need may be iffy. Happily, Belize offers visitors a super selection of destination choices, each delivering a distinctly unique experience. 
Will you opt for the uber-popular Ambergris Caye or a private island resort that won't leave you frazzled? The best way to make your decision is to compare Ambergris Caye with one of the nation's most delightful private islands: Coco Plum Island Resort, a paradise that's a short boat ride away from Belize's mainland but a million miles away from the Ambergris Caye vibe. See which appeals to you most!
Ambergris Caye
Awash in bars, bistros, and life in the fast lane, Ambergris is the never-ending party sought by young travelers who just want to have fun.
If you don't mind the proliferation of cars, trucks, and golf carts you'll dodge while on the island, you should have a great time day and night.
Because it's such a popular destination, it can be expensive to stay on Ambergris Caye and eateries are some of the priciest in Belize.

 

Relaxing sunbathing can be difficult in San Pedro as the town bumps up against the shoreline, so you could share the beach with unsightly trash.
Because so many folks flock to Ambergris, the population has gotten huge; especially during high season. Hate crowds? This isn't your best choice.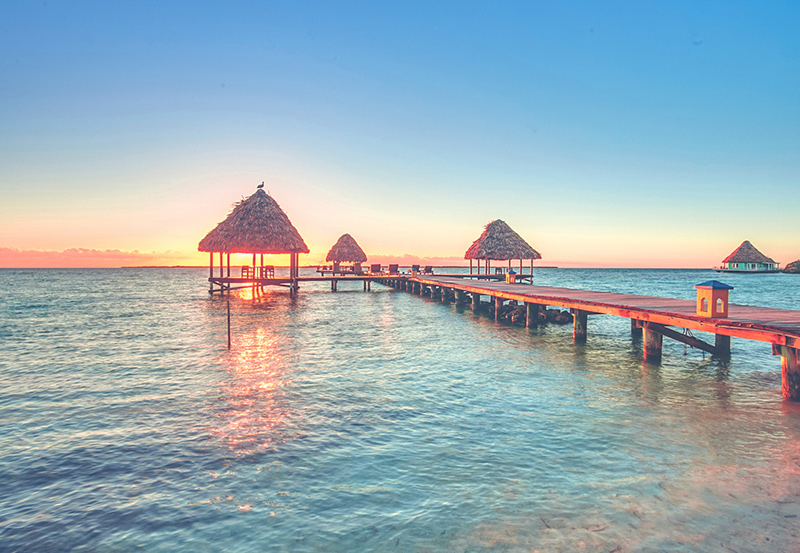 Coco Plum Island Resort
Cars? What cars? The only engine you'll hear is the one powering the boat that brings you to the island. Once it heads back to shore, the silence in its wake is striking.
No need to select one restaurant over another. Coco Plum's gourmet dining emporium belies the island's size. Chefs curate every palate-pleasing plate and beverages turned out by the island's bartender are amazing.

 

Go anywhere on the island to sunbathe. Privacy is elevated to art as evidenced by the distance between each oceanfront cabana. Some resorts say they deliver on privacy. Coco Plum exudes it.
Save money by selecting the Belize all inclusive package that suits your vacation style. Each option lets you tailor your stay to your interests and time constraints, knowing that everything you need and want is covered.
Both Ambergris Caye and Coco Plum cater to tourists, but for adults who count as a major blessing an opportunity to vacation in a child-free paradise, Coco Plum is heaven. If you're ready for a respite soon, this current special could be the incentive that nails down your decision!
1-800-763-7360