Fishing in Belize is unlike anything you've tried before and you won't have to make up any fish tales because you'll have selfies to prove your prowess.
If you love the idea of a fishing holiday but a laundry list of expenses are stopping you from surfing the web in search of them, we've got a solution. Come to Belize, a nation that's earned a reputation as Central America's premier fishing destination. For folks seeking the ultimate in recreation and fun, a Belize all inclusive fishing experience is not just possible but affordable if you pick the right destination.
How does a private island off the coast of Belize sound? Browse Belize fishing resorts and you won't find anything to compare with Coco Plum Island, a gem of a vacation hub where you can write your name in the sand before you throw your first line into the water.
Belize all inclusive fishing packages
Coco Plum Resort's all inclusive fishing packages are designed for everyone from the most experienced angler to those just learning to fish and cut bait. You'll spend time around the Great Barrier Reef where seasonal catches between March and October are particularly thrilling. Does your dream include fly fishing in Belize? It's on the Coco Plum menu, too.
You'll be on island time during your stay, so feel free to spend every waking moment doing what you love: Angling for bonefish and small snapper from the island, wade into the water to get your fly-fishing fix and venture away from Coco Plum by boat in search of mackerel, barracuda, grouper and larger snapper. While difficult to catch, you could land tarpon and wahoo, so aim for the stars!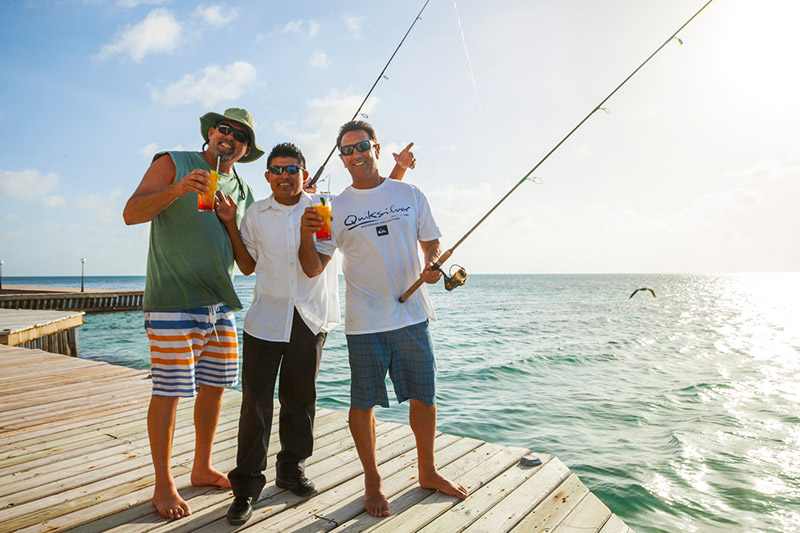 Focus on your catch, not your cash
Included in this fisherman's dream adventure are a comfortable, air-conditioned, private oceanfront cabana, three Belizean meals daily, unlimited local beer and mixed drinks, round-trip transfers to and from the island on your arrival and departure. And if you choose the fishing package your guide, boat and fuel costs are included.
For your safety, the scheduling of fishing activities depends upon the day's weather and if you love to fish but haven't the time or desire to take advantage of a full package, ask about a la carte deals that match your vacation schedule parameters.
Coco Plum doesn't supply fly-fishing equipment or flies (bring your own), but we do promise to pack lunches for your expeditions that keep you fueled throughout your day, and if you've still got the energy, borrow a kayak, Hobie Cat, snorkel gear or stand-up paddleboard to exercise your other muscles.
Get lucky and the Coco Plum Island chefs are happy to prepare your catch to your specifications. Sound like a fisherman's paradise? It is. All that's missing are you, your gear and a big tab at the end of your stay since Belize all inclusive fishing packages are pre-paid up front. Now, that's what you will call a lucky catch!
1-800-763-7360